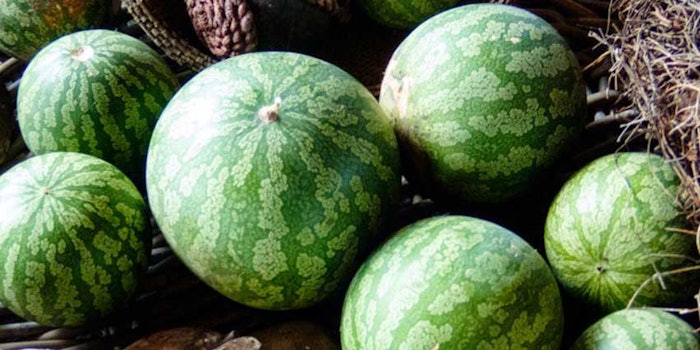 Praan Naturals has unveiled its latest natural oil, Organic Kalahari Melon Oil (INCI: Citrullus Lanatus (Kalahari Melon) Seed Oil) for sustainable beauty and personal care products with moisturizing benefits.
Related: Praan Naturals' Calabash Oil Nourishes, Protects Hair and Skin
The oil is expeller-pressed from dried Kalahari melon seeds and filtered using a cotton cloth to produce a pale, yellow product that has a mild, nutty aroma. It is meticulously handled, stored and packaged to maintain the purity, freshness and beneficial properties of the oil. As with the majority of the company's organic ingredients, the Organic Kalahari Melon Oil is certified by CCOF.
With its composition of essential fatty acids and tocopherols, the product is a nutritive and stable oil that is ideally suited for skin and personal care formulations. It is a primarily polyunsaturated oil that helps to moisturize, soften and soothe the skin, leaving it feeling hydrated and appearing more youthful. This ingredient is ideally used for sensitive, dry, itchy, aging and challenging skin types. In hair care applications, the oil conditions and supports healthy, shiny hair and helps to restore the appearance and texture of damaged hair.
For more information, contact Praan Naturals.