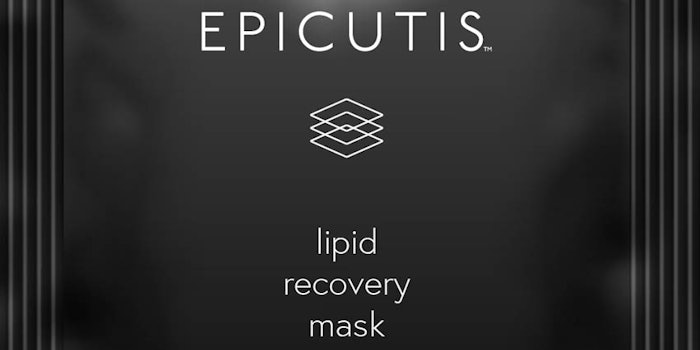 Epicutis has launched its Lipid Recovery Mask, a post-procedure mask designed to cut down on recovery time following cosmetic procedures and achieve maximum skin health.
Related: CeraVe Launches Skin Renewing Nightly Exfoliating Treatment
Epicutis Lipid Recovery Mask is formulated with 1% tetramethylhexadecenyl succinoyl cysteine (TSC), zinc and multiple-molecular-weight hyaluronic acid and infused into the skin by a bio-cellulose coconut fermented adhesion mask.
TSC technology, Epicutis' signature ingredient, was reportedly discovered by Jeffry Stock, M.D., professor of molecular biology at Princeton University. It is said to stop inflammatory signals from cells to decrease skin's inflammation, redness, and irritation. While many ingredients block signaling pathways that can lead to more damage and inflammation, TSC modulates these pathways to improve signaling.  
Epicutis products are currently available only through clinicians' offices. More information about Epicutis its skin care products is available at www.epicutis.com.
Maxwell Stock, CEO and founder of Signum Biosciences, says, "Unlike other anti-aging, anti-inflammatory ingredients, TSC can modulate the inflammatory response caused by daily exposure to environmental factors such as UV, pollution, and poor diet. It works with our skin's natural repair mechanisms to improve and retexturize the skin. For those who experience skin sensitivity, TSC is a great substitute for retinol or vitamin C to achieve similar benefits without the irritation or risk of irritation, redness, and flaking."