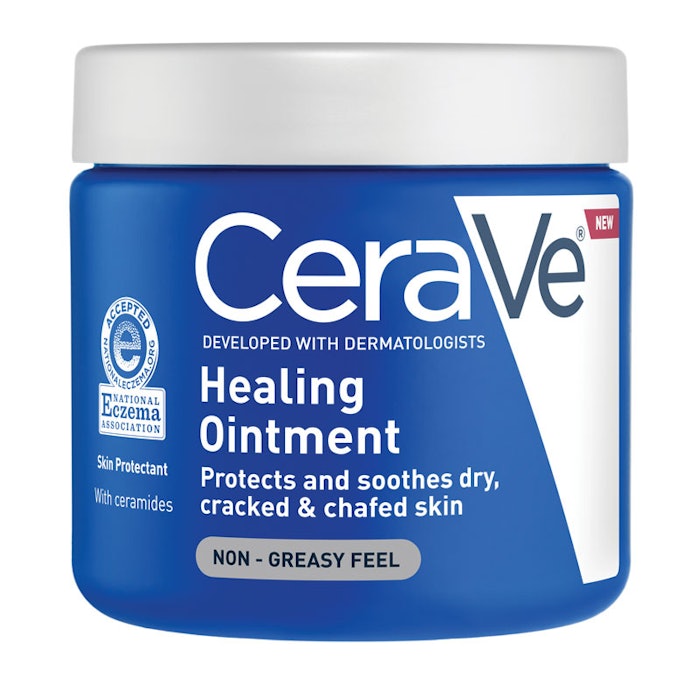 Accepted by the National Eczema Association, CeraVe Healing Ointment's active ingredient, petrolatum, comprises 46.5% of the healing formula; however, doesn't leave the skin feeling greasy. It delivers a silky, lightweight result because its formula has been carefully honed to produce favorable tactile feel without leaving a tacky residue.
The healing ointment is not only non-comedogenic and non-irritating, it is especially mild and gentle when skin is most in need of soothing and calming relief. This new multiuse ointment contains skin-nurturing ceramides for many of your skin needs. Its carefully developed formulation combines the ideal ratio of three essential ceramides (1,3,6-ll) to help provide intense, long-lasting moisturization, even to eczema-prone skin.
Ingredients: (Active) petrolatum; (Inactive) Mineral Oil, Paraffin, Ozokerite, Dimethicone, Hyaluronic Acid, Sodium Hydroxide, Ceramide 1, Ceramide 3, Ceramide 6-II, Tocopheryl Acetate, Phytosphingosine, Cholesterol, Sodium Lauroyl lactylate, Carbomer, Pathenol, Water, L-proline, Xanthan Gum.