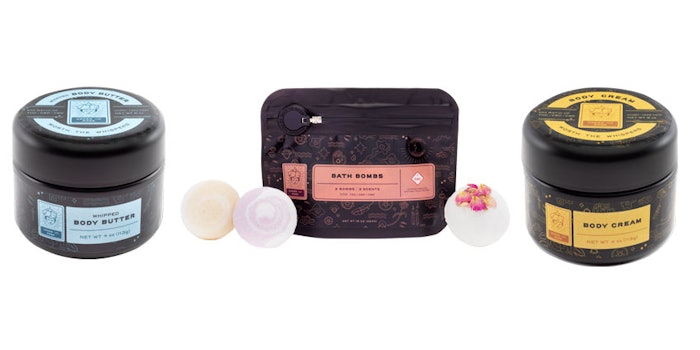 https://under-rose.com/body-care-products/
Under The Rose, LLC, announced its line of cannabis-infused bath and body products, reportedly formulated to support women's wellness.
Related: Tauriga Sciences Launching CBG-infused Bath Bombs
Products include a whipped body butter, body cream and bath bombs that are made using small-batch processing techniques. Containing natural ingredients that are socially and sustainably sourced, all products are paraben-free, phthalate-free, cruelty-free, vegan and non-GMO.
The whipped body butter imparts a light texture that is ideal for daily moisturizing without leaving an oily, "buttery" feel. The product is additionally formulated with essential oils to lift the mood of the consumer.
The body cream is said to aid in tattoo care. The THC and CBG in the company's cannabis extract are incorporated for anti-inflammatory and antioxidant capabilities, "to nurture the ink and skin." The cream reportedly penetrates deeply to bring moisture and leave the skin feeling soft, smooth and clear. Natural ingredients and light essential oils work together to quickly soothe skin and comfort the mind.
Finally, the bath bombs are designed to support a bath filled with skin-healthy ingredients, essential oils and more. The botanicals in the bombs reportedly draw out toxins, ease muscles and skin, and reset mood.
"Our society is full of companies that profit from negative messages about women and our beautiful minds and bodies," said Carrie Reuben, founder of Under The Rose. "We strive to go well beyond pampering, to empower by delivering effective wellness products [that are] delivered in a non-traditional way."
Ingredients (Body Cream): Water (Aqua), Vegetable Glycerin, Vitamin E, Aloe Vera, Grape Seed Oil, Organic Jojoba Oil, Shea Butter, Sweet Almond Butter, Coconut Butter, Grapefruit Seed Extract, Cannabis Extract, Essential Oils.