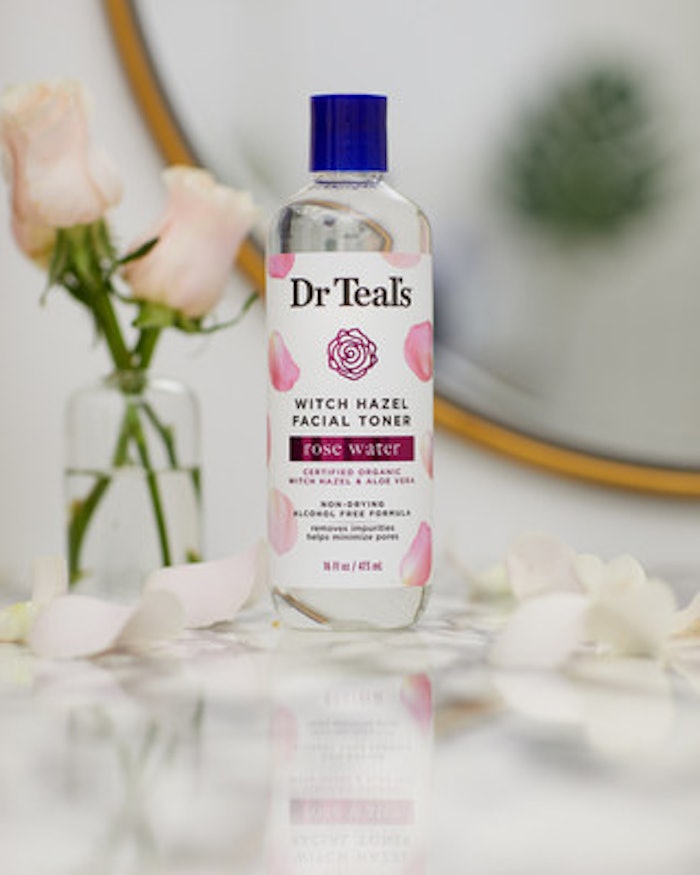 Dr Teal's
Dr Teal's, by PDC Brands, announced the latest addition to its personal care and wellness products and first foray into facial care—its namesake Witch Hazel Facial Toners.
Related: Witch Hazel: The 'Potion' to Produce Silver Nanoparticles
Dr Teal's Witch Hazel Facial Toners contain certified organic witch hazel and aloe vera, vitamin E and natural essential oils. According to the company, these ingredients are combined to achieve healthy skin as part of a holistic wellness journey, specifically to smooth and protect skin by removing impurities and minimizing pores. The combination of organic ingredients aids in soothing and priming the skin for moisturizers and serums, while promoting radiant skin.
The toners are available in Calming Rose Water, Rejuvenating Eucalyptus and Soothing Lavender. They are dermatologist-tested, reportedly safe for sensitive skin, and are promoted as vegan and free of alcohol, parabens, phthalates and gluten.
"Consumers are searching for easy and accessible ways to incorporate healthier and more wellness-oriented products into their everyday routine, whether the purpose is to relieve physical aches and pains or improve mental health," said Bradley Essig, chief marketing officer at PDC Brands. "Dr Teal's products are formulated with therapeutic ingredients and natural essential oils that are good for your body and mind so consumers can feel their best."
Dr Teal's new Witch Hazel Facial Toners are currently available in 16 fl oz. and can be found at select Walmart locations.
Ingredients (Rejuvenating Eucalyptus): Water (Aqua), Glycerin, Hamamelis Virginiana (Witch Hazel) Bark/Leaf/Twig Extract, Aloe Barbadensis Leaf Juice (Decolorized), Sodium Benzoate, Potassium Sorbate, Fragrance (Parfum), Eucalyptus Globulus Leaf Oil, Citric Acid, Tocopherol (Vitamin E).