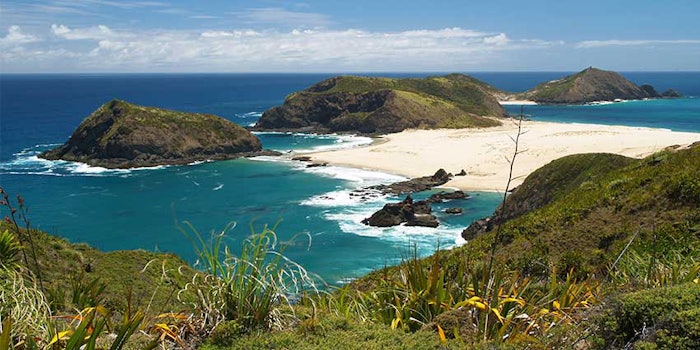 Organic Bioactives has announced the launch of its OceanDerMX portfolio of multifunctional skin care ingredient blends, all made with hand-harvested New Zealand red algae extract and other locally sourced natural inputs.
Recently: Yemoja Opens Sustainable Microalgae Plant
With this launch, "Organic Bioactives proudly brings patented, 'clean' beauty ingredients sourced from New Zealand's diverse native botanicals to the marketplace," says Andrea Taimana, founder and chief scientific officer at Organic Bioactives. "We've integrated the latest cosmetic science with time-proven indigenous Māori knowledge to create multi-tasking skin care ingredients with excellent sensorial profiles."
The OceanDerMX portfolio comprises four ingredient blends built upon the company's TPT Xtraction technology, the result of 6 years of research, comprehensive testing and studies: OceanDerMX brand Lift & Firm, Restore & Protect, Balance & Brighten and Calm & Soothe (INCIs: Not Provided). All four ingredients are reportedly NATRUE-certified as well as Ecocert-, COSMOS- and China-compliant.
Previously: Manufacturing Microalgae for Skin Care
According to the company, the tripartite extraction (TPT Xtraction) method is free of chemicals and provides bioactive compounds in a bioavailable, odorless, semi-liquid gel form. TPT Xtraction optimizes and simplifies the formulation while at the same time elevating the performance, efficacy and sensorial profile of cosmetic products.
OceanDerMX is said to impart natural anti-aging, moisture-binding, antioxidant and pollution-protecting elements to cosmetic products by enhanced delivery, as well as added actives. It reportedly suppresses the harmful toxins that cause dehydration, hyperpigmentation and premature aging in skin.
In a study observing specifically OceanDermMX Lift & Firm, volunteers applied an emulsion with 5% of the ingredient and 15 min after application, users observed diminished redness, fine lines and wrinkles.
Related: [podcast] Defining 'Clean Beauty'
"The first and most important fact to understand," says Mario Vulinovich, commercial director at Organic Bioactives, "is that the OceanDerMX range offers performance from 'all-in-one' multitasking ingredients that can replace several individual inputs such as vitamin A, hyaluronic acid, plant-based oligopeptides, synthetic chelators and melanogenesis inhibitors, which are all commonly sold individually.
"With the OceanDerMX range, we offer our clients a multi-tasking modular cosmetic system that has compatibility with other ingredients as well as with both traditional and contemporary formulating methods," says Leigh Kite, international growth specialist at Organic Bioactives. "We offer affordable volume flexibility—being able to supply in small volumes suitable for the growing indie beauty market as well as larger volumes for established and international manufacturers."