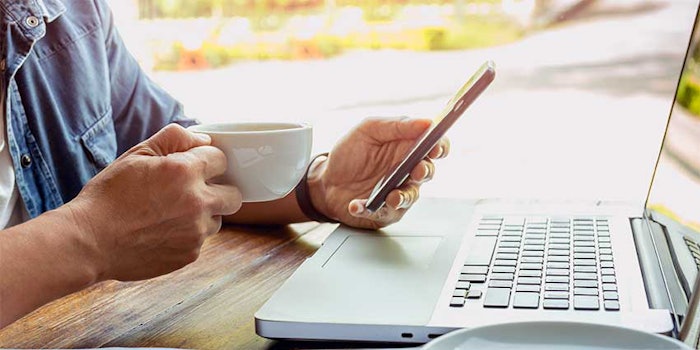 Novachem's Bluescreen (INCI: Water (Aqua) (and) Glycerin (and) Alcohol (and) Achyrocline Satureioides Flower Extract (and) Plantago Lanceolata Leaf Extract (and) Sodium PCA (and) Fabiana Imbricata Leaf/Stem Extract (and) Verbascum Thapsus Extract) is a natural active that fights blue light by absorbing wavelengths of 200-500 nm.
Recent: Novachem's Antibacterial Aids During Coronavirus
Especially during today's COVID-19 crisis, a digital presence is more important than ever. But with the increased use of digital devices, the skin is exposed more frequently to oxidative stress. 
Natural products with high polyphenol content are known for beneficial properties and are recognized to have a protective action on the skin. They act by inhibiting UV-induced inflammation, oxidative stress and DNA damage.
Novachem's Bluescreen is composed of native plants from Patagonia such as "Palo Pichi," Marcela, Plantain and "Tabaco del Indio." The ingredient acts as a natural active to protect skin by reducing oxidation induced by blue light irradiation.
Previously: [video] Student Poster: The Effects of Blue Light on Skin
Bluescreen was studied in vivo for three parameters known to influence visual signs of skin aging. The first parameter, dermal density, was increased by 38% with the use of the active, generating a continuous structure at the dermo-epidermal junction.
The second parameter, skin microrelief, was analyzed and found to improve with the use of the active, which helped to decrease the depth of expression lines. Finally, the ingredient's antioxidant action was analyzed and found to reduce erythema by 6% and decrease transepidermal water loss by 67%.
According to Novachem, Bluescreen easily disperses in the aqueous phase of formulas and can be incorporated into biphasic systems, forming emulsions suitable for topical application. This means the physical-chemical characteristics and dispersion properties of the ingredient make it easy to use in cosmetic formulations.