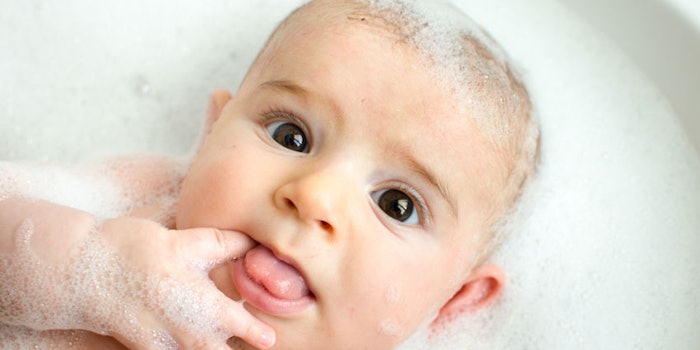 Under the umbrella of "future-ready for sustainability and digitalization," BASF presented several solutions for home and personal care during the European SEPAWA Congress for detergents, cleansers, cosmetics and fragrance; notably two mild surfactants and a cream-to-oil emulsion technology for skin care.
Eco-friendly and Mild Surfactants
Texapon SFA (INCI: Not Provided) is a mild anionic surfactant based on sustainable, RSPO-certified renewable resources. The product is extremely gentle to the skin and eyes, making it suitable for delicate baby skin and for tear-free shampoo products. Clinical tests have shown the ingredient causes no burning sensation in the eyes, is easy on the skin and mucous membranes, and creates an extremely porous, stable and creamy foam; sensory tests confirmed these results.
This ingredient is very stable in terms of storage and temperature, and can be used across a wide pH range. It is 100% biodegradable and suitable as an alternative to surfactants containing sulfate. The product reinforces the beneficial effects of cationic polymers in shampoos and has proven to make hair easier to comb, even when added to formulas that do not contain polymers.
Dehyton SFA (INCI: Cocamidopropyl Betaine (and) Disodium 2-Sulfolaurate) is a novel blend of Texapon SFA with betaine. It is cold-processable, easy to formulate and comes with a very low risk for eye irritation. It is extremely gentle on the skin and mucous membranes and can be used as a micellar thickening agent in formulas.
Cream-to-oil for Skin-to-soul
BASF also presented its "skin-to-soul" care concepts based on cream-to-oil emulsion technologies. According to the company, there is a global trend for finding ways to unwind and do things at a slower pace, which is taking root in the skin care industry. In response, the skin-to-soul care concept is designed to meet this consumer need by encouraging them to take time from a busy schedule to do an intensive skin care routine, which can reduce stress and improve physical and mental well-being.
The transforming textures of BASF's cream-to-oil formulas provide an intensive sensory experience to leave the user feeling pampered and relaxed. These light, pleasant, o/w concepts are rich in oil, up to 50%, which is evident as soon as they are applied; the result is an oily texture that glides across skin.
Furthermore, the company's latest generation of cream-to-oil technologies meet the demand for environmentally friendly ingredients, opening the door for a huge range of new formula concepts that fulfil the requirements of COSMOS standards for natural cosmetics. BASF customers can also opt for the most environmentally friendly UV filters on the European market for all new cream-to-oil sunscreen formulas based on the Eco-assessment by EcoSun Pass.
For more information, visit the BASF website.