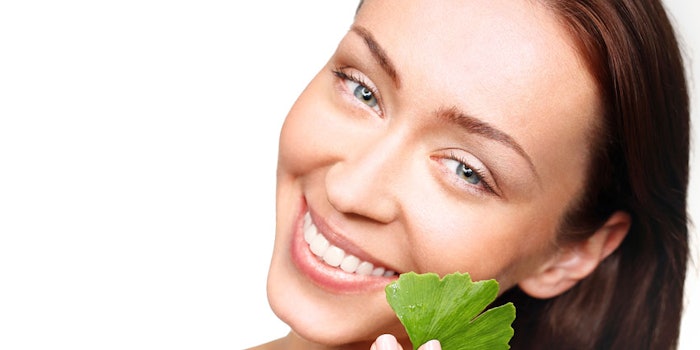 Cosmetic ingredient distributors search far and wide for interesting, effective solutions to expand their already vast portfolio—which is why we asked Access Ingredients to highlight just five of its 'favorites' you will find on display at the California SCC Suppliers' Day.
Vegan Chlorophyllin
AccessCARE GBE1 (INCI: Ginkgo Biloba Leaf Extract) is vegan chlorophyllin extracted from ginkgo biloba leaf. Advanced techniques were applied to effectively extract the chlorophyll and create this chlorophyllin copper complex. According to the company, this metalloporphyrin has high heat- and light-stability. It is a dark green powder with strong, bright and stable coloring power.
Due to its stability and non-toxic side effects, the ingredient is widely used as a food additive, cosmetic additive, colorant, drug, photoelectric conversion material and in other applications. It is natural, environmentally friendly and sustainable. Characteristics include antioxidant, anti-inflammatory, antimicrobial, free radical-scavenging and deodorizing effects.
Antibacterial Carotenoid
The First (INCI: Deinococcus Ferment Extract Filtrate (and) Butylene Glycol (and) 1,2-Hexanediol) is a patented product, whereby carotenoids were reengineered to be colorless and odorless. The First won the World Guinness Record for antibacterial effects. It offers multifunctional effects, including anti-pollution, antioxidation, anti-aging, anti-blue light, recovering damaged DNA and skin whitening properties.
TCM Anti-aging
AccessPEP EYES100 (INCI: Poria Cocos Extract (and) Dipeptide-2 (and) Acetyl Tetrapeptide-5) comprises an extract from the traditional Chinese herb Poria cocos and a blend of the beauty peptides dipeptide-2 and acetyl tetrapeptide-5. It reportedly can erase edema, reduce under-eye bags and dark circles, provide anti-wrinkle and anti-inflammatory activity, and promote skin elasticity. The ingredient was shown to smoothe skin within 3-7 days of use, as reflected in clinical studies. This product is offered preservative-free.
Multifunctional Skin Whitener
AccessPEP MUD (INCI: Butylene Glycol Dicaprylate/Dicaprate (and) Methyl Undecenoyl Dipeptide-16) is a multifunctional agent for skin whitening. Its acts via inhibition of the melanogenic pathway and provides anti-inflammatory effects against environmental stimuli such as UV irradiation; indeed, according to the company, in vitro and in vivo studies have shown methyl undecenoyl dipeptide-16 to be more effective than arbutin for skin whitening. AccessPEP MUD can be incorporated into cosmetic formulations such as emulsions, gels and creams for skin-whitening and anti-inflammatory purposes. 
Palm-free, Mild Surfactant
Finally, AccessPON KR-100 (INCI: Potassium Linoleate (and) Potassium Palmate (and) Potassium Stearate (and) Potassium Behenate) is a palm-free, natural mild surfactant base for facial cleansers, makeup removers and other cleansing products, such as facial and body washes. This material has a strong cleaning ability yet is biodegradable and leaves no residue. It is also non-irritating and preservative-free due to its high-pH self-preservation. The surfactant provides a rich and elastic foam, which gives softness and moisturizing benefits to the skin.
For more information, contact Access Ingredients or visit them at Booth #354.