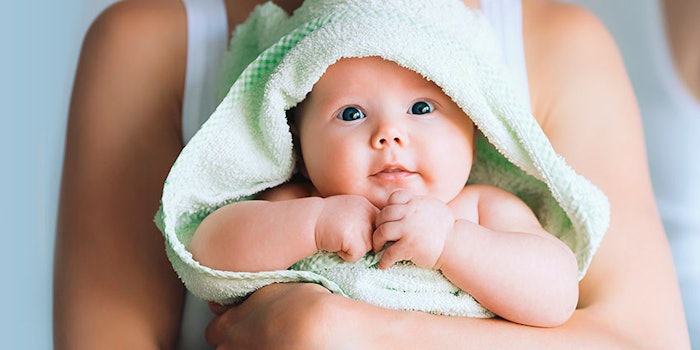 BASF's recent formulations were created with delicate infant skin in mind; the range, "First Touch," balances the burgeoning baby care market with ever-in-demand natural and sustainable concepts.
When it came to ingredient usage, the company's principle was "as little as possible, as much as necessary," according to a press release. 
Related: Infant Skin: Caring for Compromised Conditions
Formulations in the line include:
Baby Sensitive Skin Foam Head-to-Toe—meant to keep baby skin soft and healthy via mild cleansing and a gentle foam. The formulation includes Phytosmoothe (INCI: Brassica Campestris Sterols (and) Cetearyl Alcohol), the company's rapeseed-derived active, in order to protect infants' physical and microbiotic skin barrier with purified phytosterols;
Baby Sprayable Lotion Light-to-Caress—offers intense moisture and skin care;
Baby Protective Ointment—provides protection to highly sensitive skin, such as that in the diaper area;
Extra Protection Baby Sun Care Milk SPF 50—for safer sun exposure;
Naturally Baby Shampoo "Tear free"—Cosmos-compliant, and formulated with ingredients based on renewable feedstocks.
"We choose carefully selected ingredients that are recommendable for the use on delicate baby skin. We follow the latest market trends on baby care with the focus on extra mildness, strong protection and intense moisturization as well as solutions that fulfill the growing demand for natural based solutions. We have set ourselves especially high standards as formulation guideline… to make our new baby care concept essential and safe!" states the BASF website regarding First Touch.
The range was presented at the 2018 Sepawa Congress, held in Berlin from Oct. 10-12, 2018. There, the company also introduced its wax-based Euperlan OP White (INCI: Not Available) and Cegesoft Peel (INCI: Glycol Distearate) ingredients.