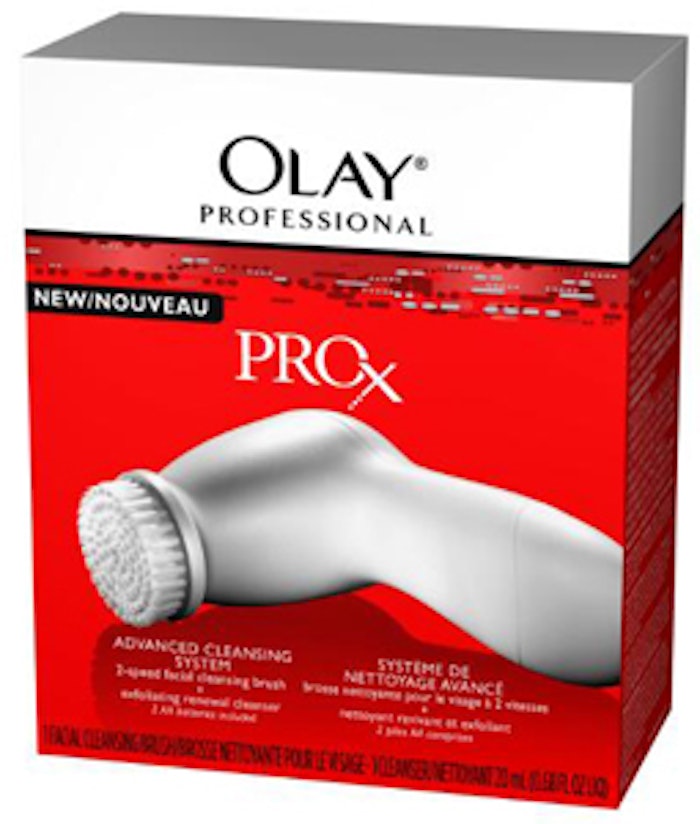 Procter & Gamble brand Olay has launched a cleansing system that includes a facial cleansing tool and a cleanser. Olay Professional Pro-X Advanced Cleansing System is said to provide gentle cleansing and exfoliation, remove dry skin cells and promote cell turnover. According to the company, this system cleanses skin six times better than basic cleansing; it is also said to prepare the skin for other treatments.
The system, which was designed by a group of dermatologists and scientists known as the Olay Professional Alliance for Skin Care Innovation, includes the battery-powered Olay Professional Pro-X Two-Speed Facial Cleansing Brush, a replaceable brush head attachment, and the Olay brand Professional Pro-X Exfoliating Renewal Cleanser.
According to the company, the tool's bristles rotate to lift and remove dirt and dead skin from the skin's surface. This micro-massaging action is also said to help maximize the immediate hydrating effects of Olay brand or other antiaging moisturizers.
Ingredients: Olay Professional Pro-X Exfoliating Renewal Cleanser: Water (aqua), Glycerin, Lauramidopropyl Betaine, Sodium Cocoyl Isethionate, Polyethylene, Sorbitol, Acrylates Copolymer, PEG 200 Hydrogenated Glyceryl Palmate, Citric Acid, Potassium Hydroxide, Polyquaternium 10, PEG 7 Glyceryl Cocoate, PEG 100, Coconut Acid, Disodium EDTA, Sodium Isethionate, Sodium Chloride, Magnesium Nitrate, Sodium Carbonate, Methylchloroisothiazoline.