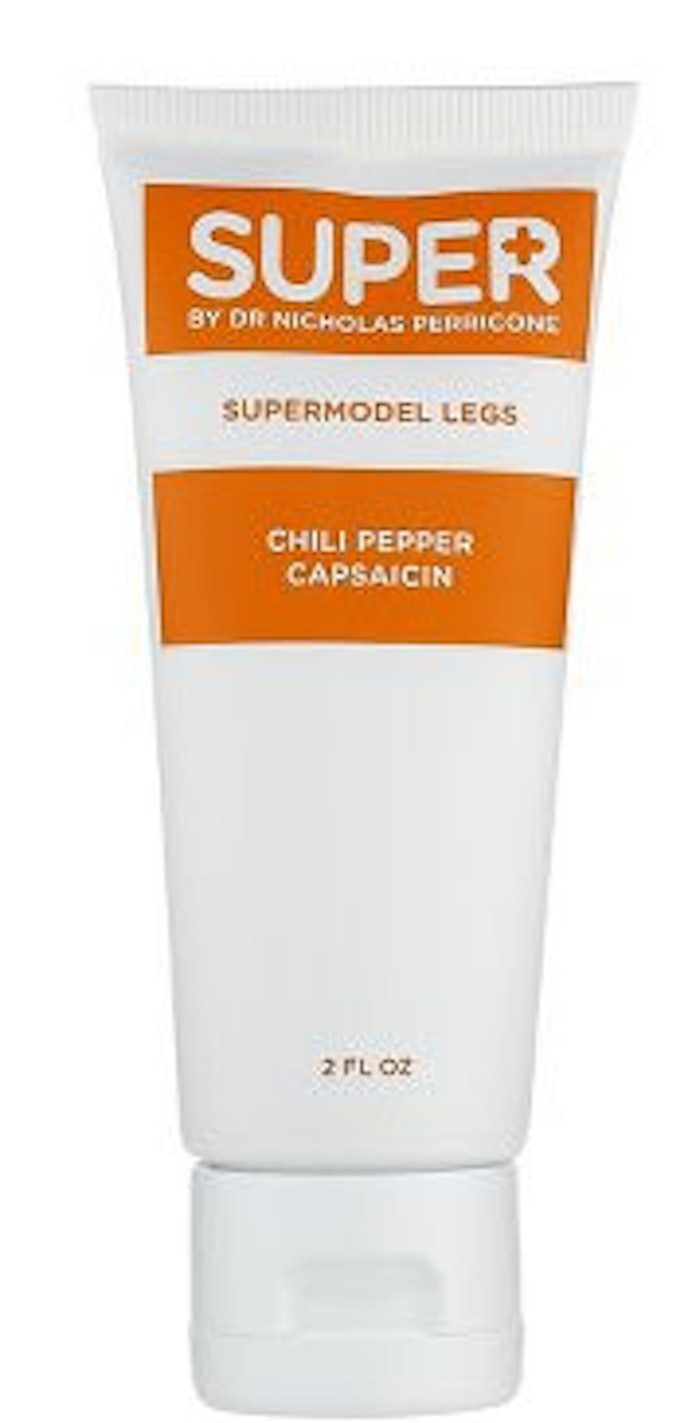 Nicholas Perricone, MD, a dermatologist, author and founder of Perricone MD, a brand of antiaging skin care products, has introduced a brand of skin care for a younger demographic, ages 25-35. Super by Dr. Nickolas Perricone includes 13 products for the face and body that are formulated with Perricone's favorite superfoods, a term he uses for ingredients with high nutritional value that also benefit the skin. Such superfoods include: yogurt, acai berry, melon, chili peppers, watercress and dark chocolate.
Super Supermodel Legs with Chili Pepper is a moisturizing and smoothing cream that boosts the skin's natural radiance. It is formulated with capsaicin from chili peppers to increase circulation, improves muscle tone, promote firmness and aid in the skin's moisture retention. The cream also contains squalane to act as a permeability barrier, maintaining moisture and suppleness. Dimethyl MEA is also included in the product to enhance contours and improves muscle tone. Finally, glycosaminoglycans reportedly are incorporated to bind moisture to promote suppleness, firmness and elasticity.
Ingredients: Water (aqua), Urea, Isopropyl Palmitate, Cetearyl Alcohol, L-Tyrosine, Sorbitol, Glyceryl Stearate, PEG-100 Stearate, Hydroxylated Lecithin, Squalane, Zinc Sulfate, Dimethyl MEA, Dimethicone, Rosmarinus Officinalis (Rosemary) Leaf Extract, Ceteareth-20, Mica, Glycosaminoglycans, Thioctic Acid (Alpha-Lipoic Acid), Phenoxyethanol, Xanthan Gum, Titanium Dioxide, Caprylyl Glycol, Iron Oxides, Elaeis Guineensis (Palm) Oil, Tocotrienols, Sodium Hyaluronate, Capsicum Frutescens Fruit Extract, Sorbic Acid, Tocopherol, Carthamus Tinctorius (Safflower) Seed Oil, Fragrance (parfum) (Naturally Sourced).