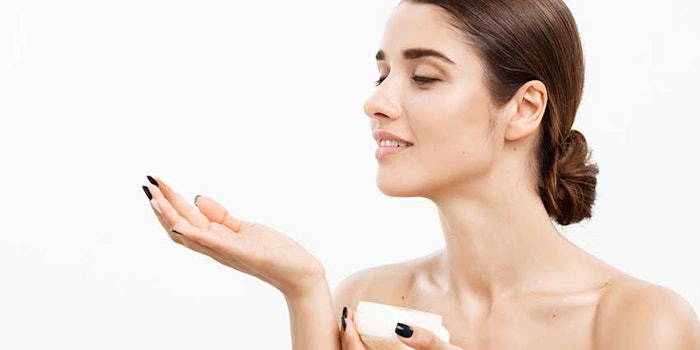 Actives and sensorial attributes meet in Evonik's F3-Beauty. Inspired by K- and J-beauty's influence over consumers' desired sensory experiences, the line of formulations is meant to marry texture with efficacy.
The "new cosmetics consumer," as defined by the company, is one who is willing to indulge in their personal care while expecting clinical-level performance and placing value on a product's tangible elements. It was for these consumers that Evonik created the concept line.
F3-Beauty's formulations include:
Age-defying Sculpting Soufflé—A soft, whipped cream-like product including Evonik's Sphingokine NP (INCI: Caprooyl Phytosphingosine) and Tego Pep 4-17 (INCI: Tetrapeptide-21 (and) Glycerin (and) Butylene Glycol (and) Water (aqua)) actives to minimize the appearance of wrinkles.
C3 Cushion Cream—Meaning Calming, Clean and Clear, this rich cream applies with a cushion-like feel to deliver several actives, including Tegosoft DEC (INCI: Diethylhexyl Carbonate).
Frozen Youth SPF 15—As the "frozen" name implies, this cooling formulation is meant to reduce the appearance of photo-damaged skin and improve skin elasticity with an ice cream-like texture, with ingredients including Tego Stemlastin (INCI: Cyanidium Caldarium Extract).
Contouring Transformation Gel—This gel transforms to a fluid consistency upon application to moisturize and improve the appearance of skin firmness via Evonik's Tego Xymenynic (INCI: Caprylic/Capric Triglyceride (and) Xymenynic Acid) active.
Intense Hydration Night Mask—This emulsion-like gel fluid leaves a silky and hydrating skin feel while imparting the company's SK-Influx V (INCI: Ceramide NP (and) Ceramide AP (and) Ceramide EOP (and) Phytosphingosine (and) Cholesterol (and) Sodium Lauroyl Lactylate (and) Carbomer (and) Xanthan Gum) and Hyacare (INCI: Sodium Hyaluronate) ingredients.
These formulations were presented at NYSCC Suppliers' Day 2018.