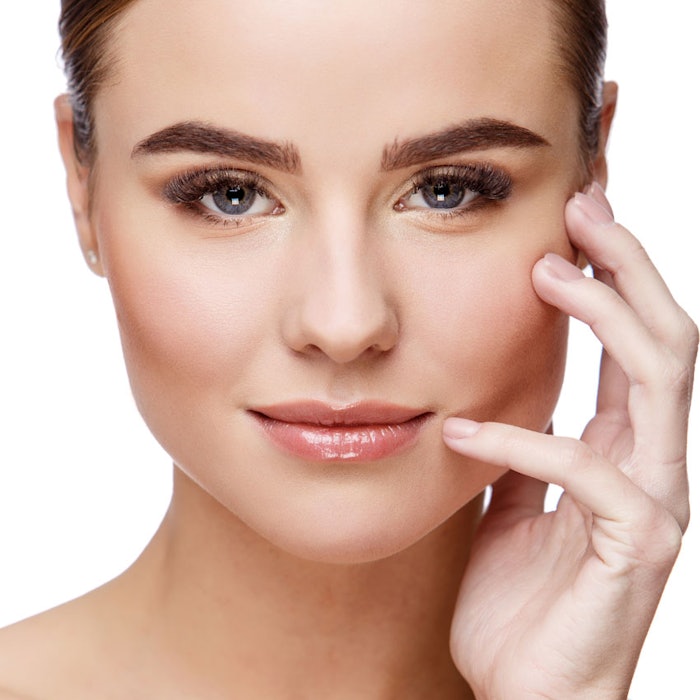 Beyond the latest-hyped market trends for anti-pollution, microbiome care, blue light protection and more, some exhibitors at in-cosmetics simply focused on the basics of skin. These included moisture, elasticity, nourishment, sebum control, barrier function and even the effects of stress. Following are a few examples from the event.
'Moisture Magnet' and Hydrators
DSM's Pentavitin is a "natural moisture-magnet," according to the company. The ingredient is intended for daily use especially on the face. DSM reports that excessively dry skin areas are better hydrated just 3 hr after a single application of the ingredient. Pentavitin is a carbohydrate complex similar to the makeup of skin. It is said to act by trapping moisture in, maintaining hydration for up to 72 hr. 
Naturex presented Hydranellys, a new natural ingredient for skin hydration derived from Selaginella, known in China as the "resurrection plant" for its ability to survive droughts. The plant curls in on itself during droughts but recovers at the first drops of water. Hydranellys harnesses this rehydration capability for skin care, treating the hydrolipidic protective film that covers the skin's surface and strengthening the stratum corneum. It helps dry skin to recover by maintaining its lipid balance and retaining moisture. In vitro, ex vivo and clinical tests show the ingredient increases epidermal lipids, and application of 3% Hydranellys cream reduces TEWL both short- and long-term.
Something old continues to be new again for Symrise; rather, it was never irrelevant. The company celebrated the 25th anniversary of its Hydrolite 5 product this year. Hydrolite 5 is pentylene glycol; a 1,2-alkanediol with a broad range of uses in cosmetic products. It hydrates skin while also boosting the performance of active ingredients. The ingredient also supports the solubilizing and emulsifying characteristics of other cosmetic ingredients to provide modern product protection.
Chemyunion placed a heavier emphasis on male skin with its 4Man; a multifunctional solution that imparts four key effects in one ingredient. Composed of a synergetic combination of hops, licorice, red algae extract, Gallic rose, panthenol and menthol, 4Man stimulates skin cell renewal, increases superficial moisture, reduces oiliness and increases skin firmness.
Elastic, Nourishing and Soothing Benefits
BASF's Proteasyl ingredient, derived from pea extract, is a protease inhibitor that improves skin elasticity by increasing the synthesis of proteoglycan and fibers—collagen I, III, V and elastin—while defending against proteolytic damage. One study found the material to effectively benefit skin on the arms, chest and face.
IFF/Lucas Meyer Cosmetics' SOS Perfect Lips offered a high-oil, 2-in-1 lip and contour product that goes on without a greasy feeling and absorbs quickly to provide nourishment, soothing and plumping actions.
Symrise also presented its SymControl Care, an active ingredient from the microalgae Tetraselmis suecica that regulates skin's sebum production and strengthens its barrier. Research has shown that ~61% of consumers with oily skin also have sensitive skin, which leads to sebum over-production and frequent irritation. As such, the ingredient was designed to significantly reduce sebum overproduction, soothing the skin and strengthening its barrier.
Anti-stress Care
Stress leads to the generation of cortisol in skin, which in turn stimulates premature aging. As such, BASF developed Hyalurosmooth, derived from Cassia angustifolia, to inhibit the harmful impact of cortisol in skin by restoring collagen I and hyaluronic acid. The result, according to the company, is well-hydrated skin and a radiant complexion.
Similarly, DSM addressed stress with its Bel-Even (INCI: Biphenyl Azepanyl (and) Methanone (and) Propanediol), a small synthetic molecule that reduces the damaging effects of stress on skin. The ingredient reversibly and selectively inhibits the key enzyme 11β-HSD1, which generates cortisol in the skin. It is also designed to improve skin elasticity, density and hydration.
Ashland also re-introduced its Chronogen YST (INCI: Water (aqua) (and) Glycerin (and) Hydrolyzed Yeast Protein) ingredient to address the effects of "social jetlag" on skin. According to the company, Chronogen YST assists with the maintenance and synchronization of clock genes—day and night skin regulators. 
"Social jetlag is a new field of study connected to health problems in modern societies, as a mismatch [occurs] between the body's biological clock and sleep patterns, often linked to late-night social activities such as television, online activities and personal hobbies," explained Neil Astles, global marketing and new business development manager of biofunctionals for Ashland.
Strengthening Defenses
Finally, Naolys launched its Healthy Perfection (Vitis flower)2, a new concept based on the plant cells of two vine varieties. This concept leverages the association of vine (grape) plant cells and their ability to repair skin and strengthen its natural defenses.
A clinical study revealed a general reduction in imperfections on the face after 28 days of treatment, two applications per day. Participants declared an increase in radiance and visible imperfections (79%); a decrease in imperfections (31%); and a decrease in hyperpigmented spots (27%).
In vitro results also demonstrated a complete healing process due to decreases in inflammation mediators and an increase in cell respiration, microcirculation and the synthesis of collagen and proteoglycans.