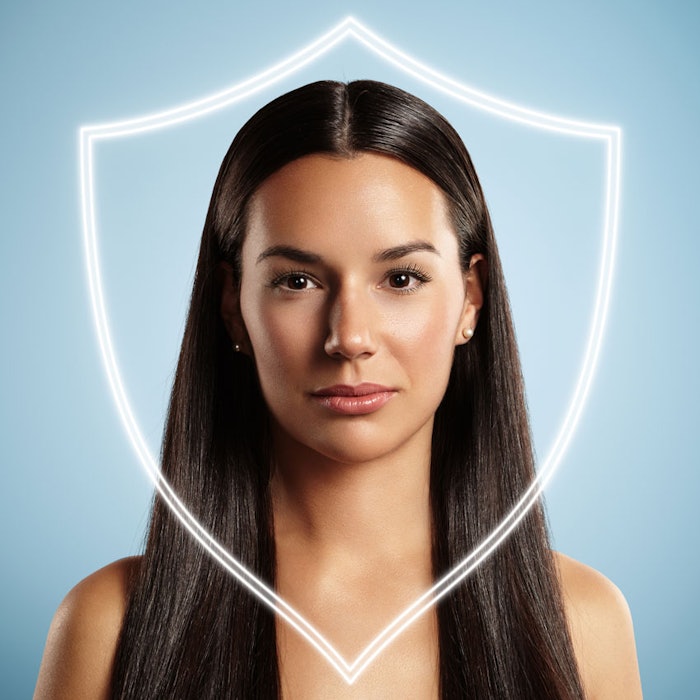 Anti-pollution, positioned as part of a wider defensive care strategy—also comprising blue light defense and even probiotic activity—was, once again, one of the hottest claims at this year's in-cosmetics Global event. Here are a few highlights from the show floor.
Targeting Squalene and Sebum
IFF/Lucas Meyer Cosmetics presented Oiless'City (Glycerin (and) Backhousia citriodora leaf Extract), a multi-ethnic sebum regulator extracted from Australian Backhousia citriodora (lemon myrtle) leaf. In applications, the ingredient protects squalene against urban skin aggressors by reducing pro-inflammatory cytokines, decreasing sebocyte differentiation and lipid accumulation, and rebalancing oily skin content to reduce shine. Read more about it in the May 2018 issue of Cosmetics & Toiletries.
In relation, Corum's Azeclair (INCI: Potassium Azeloyl Diglycinate) azelaic acid derivative imparts a sebum-normalizing effect and provides inflammatory protection against pollutants. Recent studies show the ingredient can inhibit various inflammatory factors such as interleukin-8 and matrix metalloproteinase or MMP-1, which are induced by urban dust PM2.5 and diesel particulate matter. Azeclair also acts as an oil control agent to normalize sebum production and brighten the skin.
Proactive Probiotic
Ecobiotys is an active ingredient from Silab that was developed based on floral nectar components that regulate microbiota. In collaboration with the National Institute of Agricultural research (INRA), Silab sampled floral nectars and identified yeasts, by genetic analysis, that were found to act as regulators of the ecosystem in the plant; i.e., its Nectarobiota. These yeasts ensured the defense, development and regeneration of the plant.
From this insight, a personal care ingredient was derived from the yeast Metschnikowia reukaufii, isolated from the porcelain flower Hoya carnosa; the result was Ecobiotys.
"The ingredient rebalances the microbiota of mature skin by reinforcing its immune and mechanical barriers and acting on the distribution of bacterial communities," explained Mélanie Coirier, communication officer for Silab. "The quality of the skin barrier is thereby improved and the complexion is enhanced."
Capping the Cascade
Also aligning with the demand to protect skin from pollution, Indena presented its Vitachelox (INCI: Vitis Vinifera (Grape) Seed Extract (and) Camellia Sinensis Leaf Extract (and) Quercus Robur Bark Extract) product. The ingredient comprises a selection of optimized botanical compounds to act as anti-pollutants, skin protectors, free-radical scavengers and chelating agents on various common pollution-induced triggers. In addition, it balances skin's microflora. 
"Anti-pollution is still a major focus," explained Giada Maramaldi, product scientific communication manager for Indena. "Now we're figuring out how to measure it." She added that the Vitachelox ingredient works via stoichiometry to remove heavy metals. "This stops the cascade processes pollutants initiate in skin." The company is looking to hair care for this ingredient's possible next move.
In relation, IBR launched IBR-UrBio Tect, a product designed to protect from and deactivate urban pollution as well as blue light. Its chelation capability deactivate and neutralize pollutants, while prebiotic benefits strengthen the skin's defensive abilities and offer support, protection and repair benefits. In a clinical study, the product reverseed the effects of pollution, including cigarette smoke on smokers; chelated and neutralized pollutants including heavy metals; detoxified pollutants in aquaculture; and mitigated blue (HEV) light-induced damage.
Autophagy and Renewal in Action
SEPPIC's Wesource group highlighted Sakadikium, a new skin-brightening, anti-pollution and anti-blue light active. Derived from a concentrated extract of sugars from the natural rhizomes of Hedychium coronarium or "butterfly ginger"—a plant from Madagascar known locally as Sakarivodambo—the ingredient acts on the cell's autophagy processes of maintenance and detoxification to respond to stress caused by blue light, smoke, hydrocarbons, etc. Sakadikium improves autophagy, acting as a multiprotector when exposed to blue light, UV and pollution. Its detoxification results in brighter skin. 
In a similar approach, Ashland's SeaStem biofunctional technology helps the skin self-renew and protect itself against the negative effects of environmental pollutants. Ashland utilized proprietary Zeta Fraction technology—a solvent-free process that consumes minimal energy and creates minimal waste—to refine and capture the benefits of giant sea kelp, which include regeneration, nutrition and barrier function attributes.
Made for Millennials
Finally, Lubrizol unveiled its Expect the Unexpected set of seven formulations targeting millennials. According to the company, these consumers desire perfect and protected skin—but instant results. As such, the ingredients utilized address issues including delaying the appearance of wrinkles and shielding the skin from pollution.
The concepts included:
An açai berry smoothie facial lotion, a colorful smoothie-textured moisturizing lotion with a cold and energizing feel that quickly turns warm. It offers a healthy, radiant look.
A facial gel-to-oil mask that feels like a rich gel upon initial application but transforms into an oily film to nourish the skin. It can be applied at the beginning or end of the day and it provides protection and wrinkle prevention.
A dewy, hydrating formulation that begins as a clear gel and turns into a rich cream. It provides a healthy, glowy look without a sticky after-feel.
A radiant, tone-up facial cream with a smooth, pearlized formulation that offers a hydrated, luminous look and protects from photo-aging.
A nourishing in-shower bubble gum body cream that leaves the skin smooth and supple.
A sprayable cleansing gel for hair and body with the efficacy of a soap and the sensory experience of a non-sticky and slick water gel.
A frosty bouncy hair wax designed to meet the needs of all genders and many textures, with the appearance of a wax, bounce of a gel and feel of a cream.