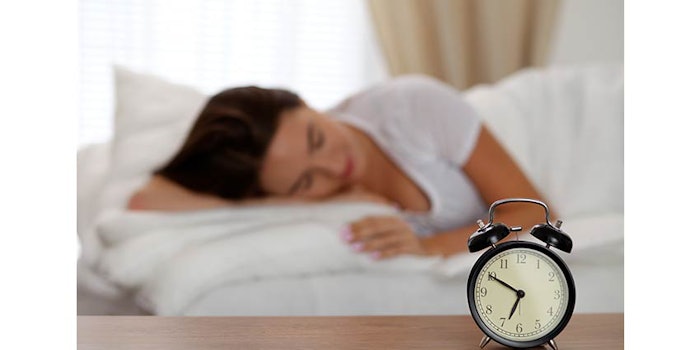 Clariant Active Ingredients (Clariant) has announced the launch of B-Circadin (INCI: Propanediol (and) Water (aqua) (and) Lespedeza Capitata Leaf/Stem Extract), a new active skin care ingredient designed to fight damage caused by disruption to the skin's circadian rhythm.
B-Circadin works to maintain the synchronization of skin's circadian cycle, in turn improving skin's complexion and decreasing puffiness and dark circles. The company showcased the ingredient during in-cosmetics Global 2018 via its Rhythm n' Blue Serum sheet mask.
As is generally known, the body is regulated by a 24-hour biological clock, or global circadian rhythm, which controls physiological behavior and metabolism, synthesizes molecules and hormones, and regulates appetite and sleep patterns. When the circadian rhythm is desynchronized or under too much stress, cells can become overwhelmed.
The circadian clock can be disrupted by everything from stress and jetlag to blue light emissions from electronic devices, leading to deregulation of the circadian rhythm and visible sings of fatigue on the skin.
B-Circadin, extracted from the Lespedeza Capitata plant grown and harvested in South Korea, contains two key glycosylated flavonoids directly involved in circadian clock maintenance: carlinoside and isoschaftoside. These entities are said to emulate cells' abilities to resynchronize and regulate rhythm-dependent biological functions such as aquaporin-3 and Nrf2 pathway detoxification activities.
In two double-blind clinical studies, after one week of use, volunteers reported 17% visibly improved complexions compared with a placebo, which increased to 35% after four weeks of use. After just four days, however, the eye contour was improved and puffiness also was decreased.
"B-Circadin is major leap forward in the development of innovative ingredients to protect skin from the stressors of modern living," said Clariant's global technical manager Alexandre Lapeyre. "With the increasing use of digital devices showing no signs of abating and the demands of the working environment meaning extended or unusal working hours, we believe B-Circadin will issue a real breakthrough in the treatment of dull, tired skin, improving its overall well-being."