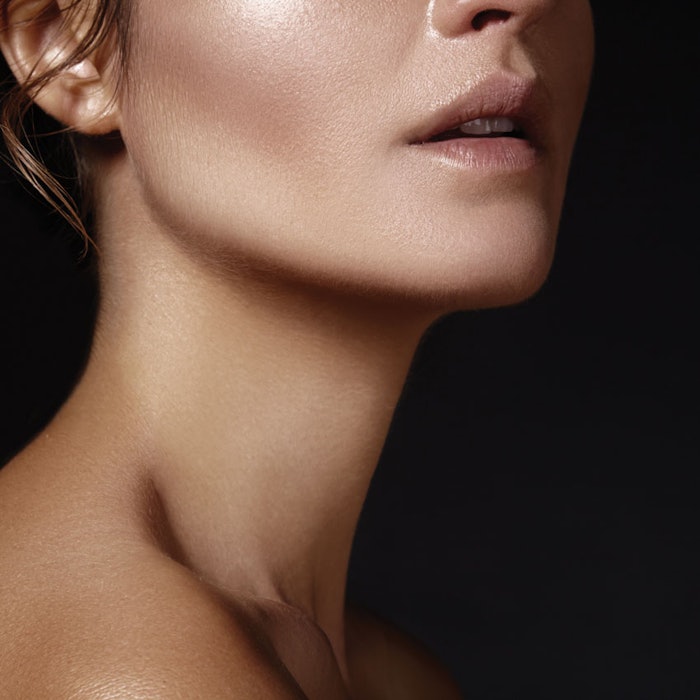 IFF/Lucas Meyer will present three novel solutions during in-cosmetics global to reverse greying in hair, reduce sebum on skin and wrap skin solutions in luxurious texture.
Greyverse (INCI: Glycerin (and) Water (aqua) (and) Palmitoyl Tetrapeptide 20) is a biomimetic peptide that stimulates melanin synthesis, favoring melanin transfer from melanocytes to keratinocytes. It improves catalase activity and reduces excess hydrogen peroxide (H2O2), resulting in hair re-pigmentation and the reversal of grey hair. According to the company, at levels of 0.5-2.0%, the ingredient demonstrated efficacy in vitro, ex vivo and clinically.
OiLess'City (INCI: Glycerin (and) Backhousia citriodora leaf extract) is a multi-ethnic sebum regulator derived from the Australian Backhousia citriodora leaf. This product protects squalene against oxidation caused by urban skin aggressors. For example, it reduces pro-inflammatory cytokines, decreases sebocyte differentiation and lipid accumulation, and rebalances oily skin content; ultimately, rebalancing the skin to reduce the appearance of shine. Editor's note: Watch for the feature article on this ingredient and its mechanisms in the May 2018 edition of Cosmetics & Toiletries.
Finally, Biophilic H (INCI: Hydrogenated Lecithin (and) C12-16 Alcohols (and) Palmitic Acid) is a biomimetic emulsifier with a cashmere touch. This phospholipid-based o/w lamellar emulsifier is designed to create elegant and comfortable formulas. Its lamellar structure has a particular affinity to skin, resulting in a second skin effect for maximum biocompatibility and tolerance.
Biophilic H can emulsify up to 30% oil alone, and is compatible with various oils, chemicals and physical UV filters and pigments, while also providing shine and consistency to formulas. According to the company, it imparts an ultra-cocooning sensation and acts to perfect skin's complexion, keep the skin moisturized and enhance the bioavailability and penetration of actives.
Recent consumer research from the company found that 83% of volunteers claimed smoother skin after application of a Biophilic H formulation, while 72% claimed their skin felt moisturized the entire day. The company also tested its ability to increase bioability of actives; when added at a 5% concentration, Biophilic H influenced caffiene and hexapeptide to be 11.4 times and 15.9 times more bioavailable in the stratum corneum, respectively.
IFF/Lucas Meyer will exhibit at stand E20.