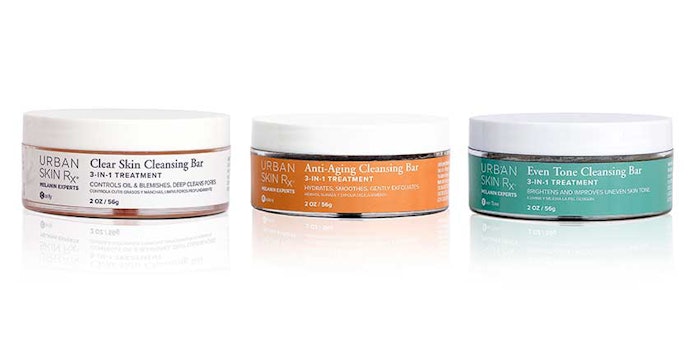 Urban Skin Rx
Urban Skin Rx has launched three multipurpose cleansing bars, available at Target locations. All three are intended to act as a cleanser, exfoliator and mask.
Clear Skin Cleansing Bar is intended for combination and oily skin types, and softens skin while exfoliating and deep-cleansing pores.
Anti-Aging Cleansing Bar is meant for dry and combination skin types. The bar hydrates and smoothes eczema-prone and aging skin, and treats the appearance of fine lines and wrinkles.
Even Tone Cleansing Bar is intended for all skin types, evens skin pigmentation and fights inflammation with kojic and azelaic acids.
Ingredients: Clear Skin Cleansing Bar: Cocos Nucifera (Coconut Oil), Elaeis Guineensis (Palm) Kernel Oil, Carthamus Tinctorius (Safflower) Seed Oil, Glycerin (Vegetable), Water (aqua), Sorbitol, Sorbitan Oleate, Soybean Protein, Sodium Hydroxide, Propylene Glycol, Sulfur, Salicylic Acid, Eucalyptus Globulus Leaf Oil, Tsuga Canadensis Leaf Oil
Ingredients: Anti-Aging Cleansing Bar: Cocos Nucifera (Coconut) Oil, Hydrogenated Palm Kernel Oil, Carthamus Tinctorius (Safflower) Seed Oil, Glycerin, Sodium Hydroxide Lye, D-Glucitol, Propylene Glycol, Sorbitan Oleate, Hibiscus Flower, Ricinus Communis (Castor) Seed Oil, Salicylic Acid, Glycerin, Resorcinol, Glycyrrhiza Glabra (Licorice) Extract, Hydrolyzed Soy Protein, Azelaic Acid, Kojic Acid, Niacinamide, Retinyl Palmitate, L-Glutamine, Alpha Arbutin
Ingredients: Even Tone Cleansing Bar: Cocos Nucifera (Coconut) Oil, Elaeis Guineensis (Palm) Kernel Oil, Carthamus Tincortorius (Safflower) Seed Oil, Glycerin (Vegetable), Water (aqua), Sorbitol, Sorbitan Oleate, Soybean Protein, Sodium Hydroxide, Carmellia Sinensis (Black Tea) Leaf Extract, Hamamelis Virginiana (Witch Hazel) Water, Azelaic Acid, Kojic Acid, Niacinamide, Tannic Acid, Glucosamine HCI (D), Maltose Monohydrate, Urea, Sodium Lactate, Calcium Ascorbate