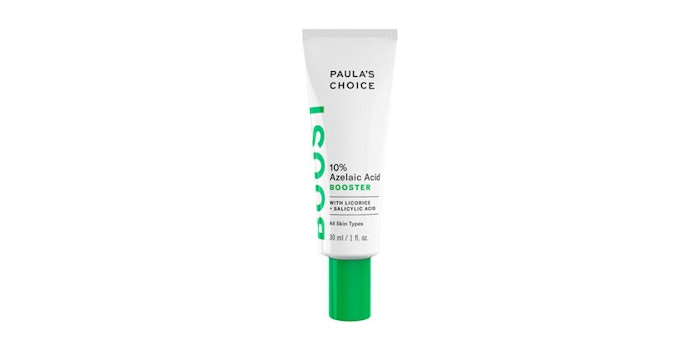 Paula's Choice 10% Azelaic Acid Booster is a multitasking cream-gel formula designed to improve the appearance of skin. The formula contains azelaic and salicylic acids, plant-derived brightening and soothing ingredients, and is a oil-free, complexion-perfecting treatment to target stubborn spots, rough texture and redness.
The product promotes a more clarified skin tone overall, making dull, sallow complexions appear brighter and balanced with a healthy, mattified finish. Suitable for all skin types, the booster is reportedly nonirritating and 100% fragrance-free, with no added dyes and has not been tested on animals. Importantly, it cautions those allergic to aspirin (acetylsalicylate) to not use products containing salicylic acid, also known as beta hydroxy acid (BHA).
Users are instructed to use the cream-gel once or twice daily, applying to face and neck. It may be used alone or added to a favorite moisturizer or serum. For daytime, consumers should follow its use with a sunscreen.
This column will review the ingredient listing for claims substantiation and functionality. 
Editor's note: The goal of the present article is to provide a general idea of the ingredients cosmetic manufacturers are using that could potentially support the stated product claims. Without specified use levels and access to clinical studies, note that the author is drawing conclusions based on speculation, albeit derived from years of clinical experience and evidence in the literature. The following is offered for your consideration and further verification.
Water Base and Surfactants
The formula is a water-based system, containing the hydrating solvents propanediol and butylene glycol in the hydrophilic phase. The oil phase comprises the replenishing emollients C12-15 alkyl benzoate and caprylic/capric triglyceride. Glyceryl stearate, cetearyl alcohol and methyl glucose sesquistearate serve as surfactants.
Lipid Phase, Stabilizers and Preservative
The lipid phase contains the texture-enhancing silicones dimethicone and cyclopentasiloxane. The emulsion is stabilized by xanthan and sclerotium gums, and preserved by phenoxyethanol.
Actives, Botanicals and Others
The active ingredients in this formulation include azelaic acid, which has anti-inflammatory properties, and inhibits follicular keratinization and epidermal melanogenesis, leading to a brighter appearance and more even skin tone. Glycerol is a humectant and skin-hydrating ingredient. In addition, Boerhavia diffusa root extract has soothing properties, to restore skin to a normal sensitivity threshold.
Also derived from plants, allantoin and bisabolol are known to soothe the skin. Salicylic acid serves as an exfoliant, and Glycyrrhiza glabra (licorice) root extract helps to even out skin pigmentation and soothe sensitive skin. Furthermore, adenosine has been shown to have an anti-wrinkle benefit for crow's feet and glabellar lines.
Conclusion
In my view, the ingredients in the formula support the claim for promoting a clear, even skin tone as well as making dull, sallow complexions appear brighter, balanced and matte.
Ingredients: Water (aqua), Azelaic Acid, C12-15 Alkyl Benzoate, Caprylic/Capric Triglyceride, Methyl Glucose Sesquistearate, Glycerin, Cetearyl Alcohol, Glyceryl Stearate, Dimethicone, Salicylic Acid, Adenosine, Glycyrrhiza Glabra (Licorice) Root Extract, Boerhavia Diffusa Root Extract, Allantoin, Bisabolol, Cyclopentasiloxane, Xanthan Gum, Sclerotium Gum, Propanediol, Butylene Glycol, Phenoxyethanol.
Source: Paula's Choice website