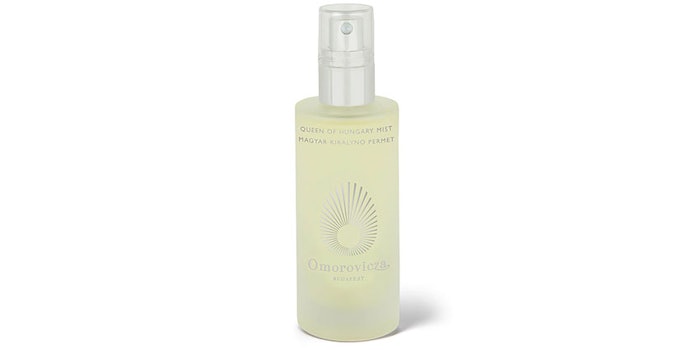 www.beautyexpert.com
Omorovicza's Queen of Hungary Mist is a revitalizing, scented spritz formulated using Queen of Hungary water, the world's first recorded perfume originally created for Queen Elizabeth of Hungary in the 14th century. The scented mist is designed to refresh and revitalize the skin.
The product is said to harness the power of Hungarian thermal water to provide long-lasting hydration and restore suppleness to the skin for a naturally radiant finish. This column will review the ingredient listing for claims substantiation and functionality.
Water Base
The formula is a water-based system, containing the humectant glycerin. Ethylhexylglycerin acts as a weak preservative and conditioning agent. The formula is also preserved by phenoxyethanol. Polysorbate 20 is a surfactant and disodium EDTA acts as a chelating and viscosity-control agent. 
Benefit Ingredients
Pectin is included for its moisturizing and formulation-stabilizing properties. Saccharomyces ferment extract is high in bioavailable minerals, amino acids, beta glucan and vitamins that soothe, hydrate and repair the skin. Chlorella Vulgaris/Lupinus Albus Protein Ferment also offers hydrating and skin-firming properties.
Mannitol is a humectant and, combined with yeast extract, is used to revitalize and regenerate the skin. Phospholipids, comprising glycerol, fatty acids and phosphate, provide skin-conditioning benefits.
Scent Refresh
The low concentrations of plant extracts and waters—including apple and cherry extracts, rose and orange flower waters, and sage leaf water—contribute refreshing and revitalizing properties as well as scent. Notably, linalool, geraniol and citronellol are potentially sensitizing compounds, and a part of the overall fragrance.
Conclusions
In my view, the ingredients in the formula support the claims for spray-on hydration and revitalization, refreshment and skin radiance. Some of these overall effects may be derived from aromatherapy and the olfactory properties of plant-based scents.
Ingredients: Aqua (Hungarian Thermal Water), Glycerin, Polysorbate 20, Phenoxyethanol, Pyrus Malus (Apple) Fruit Extract, Saccharomyces (Hungarian Thermal Water) Ferment Extract, Disodium EDTA, Ethylhexylglycerin, Mannitol, Malpighia Punicifolia (Acerola) Fruit Extract, Chlorella Vulgaris/Lupinus Albus Protein Ferment, Pectin, Rosa Damascena Flower Water, Citrus Aurantium Dulcis (Orange) Flower Water, Salvia Officinalis (Sage) Leaf Water, Phospholipids, Yeast Extract, Linalool, Geraniol, Citronellol.
Source: omorovicza.com/us/skincare/queen-of-hungary-mist.html