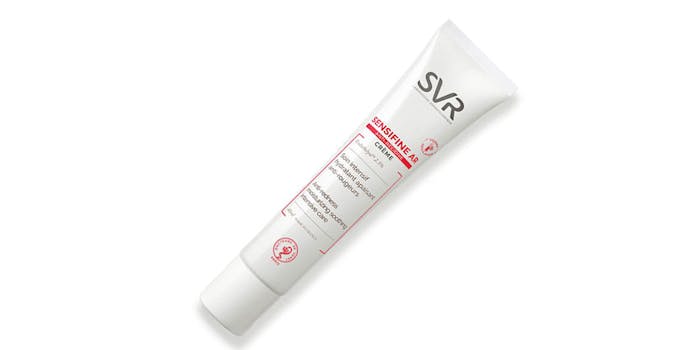 SVR Laboratoires' SENSIFINE Crème Treatment is a hydrating gel-cream specially developed to help soothe and comfort allergic and hypersensitive skin. Formulated to help maximize skin tolerance, the soothing, nongreasy texture is said to absorb instantly, delivering ingredients to leave allergic skin feeling calm and moisturized.
At 2%, niacinamide is included to help restore the skin's protective barrier, while 10% cotton oil and vegetable squalane aim to intensely nourish, hydrate and soften skin. Developed with the guidance of allergy experts and dermatologists, the soothing cream claims to moisturize normal to dry, sensitive skin, while reducing the feeling of irritation.
The product states it is "100% tested on sensitive skin," and free from surfactants, silicones and mineral oils. This column will review the ingredient listing for claims substantiation and functionality.
Water Base and Conditioners
The formula is a water-based system containing a humectant, glycerin, and solvents including: 1,2-hexanediol, providing skin conditioning; and ethylhexylglycerin, which acts as a weak preservative and also a conditioning agent.
Actives and Thickeners
The active ingredient, niacinamide, has been shown to affect hydration, evenness of skin tone and sebum production. Corn starch serves as a film-forming and viscosity-enhancing agent.
Acrylates/C10-30 alkyl acrylate crosspolymer also increase viscosity, as does the binder, xanthan gum. Tocopherol provides antioxidant properties and sodium hydroxide is a buffering agent.
Oil Phase
The lipid phase emollients comprise hydrogenated cottonseed oil, extracted from the plant after the cotton lint has been removed so as to omit gossypol—a naturally occurring toxin that protects the cotton plant from insect damage. Skin sensitivity to such contaminants has been reported in the past. For skin care, cottonseed extract is used in its hydrogenated form and contains 50% omega-6 fatty acids and trace amounts of omega-3 fatty acids. 
Squalane, a saturated derivative of squalene (found in shark liver oil and in human sebum), also has been added for antioxidant, skin hydration and emollient properties. Squalene by-products in peroxidized forms, however, may lead to comedogenesis and inflammation.
Conclusions
In my view, the ingredients in the formula support the claims for hydrating, soothing and softening skin—assuming a high-quality of cottonseed oil with no contaminants, and the prevention of oxidization during production or through protective packaging.
Ingredients: Water (aqua), Gossypium Herbaceum (Cotton) Seed Oil, Squalane, Corn Starch Modified, Glycerin, Niacinamide, Tocopherol, 1,2-Hexanediol, Acrylates/C10-30 Alkyl Acrylate Crosspolymer, Ethylhexylglycerin, Sodium Hydroxide, Xanthan Gum
Source: https://www.beautyexpert.com/svr-laboratoires-sensifine-creme-treatment-40ml/11643678.html