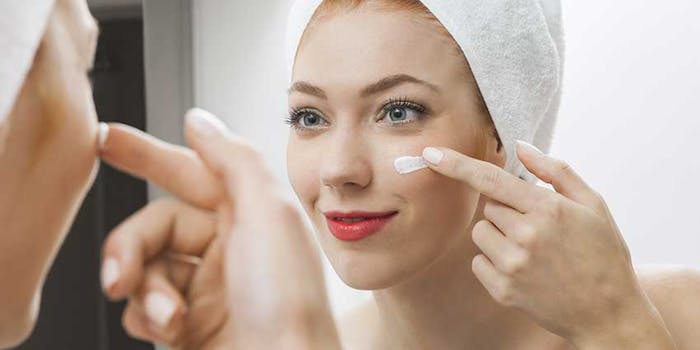 A classic product of the personal care industry, acne care is here to stay—according to a recent market report, the global topical-use acne treatment market is expected to grow at a CAGR of 4.6% between 2017 and 2024.
However, just because acne care has historically been a concern does not mean it is without new innovation. This month's installment of the Cosmetics & Toiletries Supplier Roundtable challenged experts on just that: What are solutions for today's acne care formulators? Their responses are as follows:
Olga Gracioso, Global Marketing Director, Sederma
Oily skin is the result of relatively abundant sebum production by sebocytes. Physiologically, the purpose of sebum is to protect skin from the environment but sebum overproduction can often change other properties of the skin. Sebum traps dead skin cells, as well as the bacteria that feed on them, and then multiply, clogging pores and creating a hub of pro-inflammatory processes. This leads to skin that becomes covered with little red bumps that may become more significant lesions, which are quite unattractive.
Therefore, it makes sense to reduce sebocyte sebum production and limit sebocyte proliferation, as well as improve the elimination of the corneal layer to prevent dead skin from accumulating. Moreover, reducing the number of bacteria and their cellular binding points helps to modulate the pro-inflammatory effects related to the components of these bacteria. It is also necessary to modulate pro-inflammatory mechanisms by limiting the formation of pro-inflammatory lipids and cytokines. The strategy for unifying the complexion is therefore to modulate these parameters, which also helps limit inflammatory hyperpigmentation around the pores.
Sebuless (INCI: Maltodextrin  (and) Syringa Vulgaris (Lilac) Extract), a cosmetic ingredient obtained by the eco-designed plant cell culturing of Syringa vulgaris, has been demonstrated to positively act on each of the processes leading to oily skin and associated blemishes.
Its efficacy has been evaluated in an innovative in vitro model of normal human sebocytes developed by Sederma. An exclusive cosmetogenomic approach also demonstrated the extract imparts epigenetic regulation, leading to a reduction in the number of receptors (Toll-like receptor 2) available to Propionibacterium acnes (P. acnes), and consequently inhibiting the pro-inflammatory potential of this acne-typical bacteria.
In vivo studies were performed for confirmation of in vitro results. On volunteers, sebum production, inflamed blemishes and retentional lesions were significantly reduced after one month of a treatment with Sebuless.
Stefan Hettwer, Ph.D., Senior R&D Manager, Cosmetic Actives, Rahn AG
Acne is mainly a result of impure and oily skin. It seems easy to fight acne with a proper skin cleansing strategy. However, we forget two things: first, cleansing the skin is a challenge for the skin's microbiota; and second, the underlying root cause of impure skin is not changed by a daily cleansing routine. To have a long-term benefit, it is necessary to address all the different trigger factors that can lead to an increase in sebum production or an infection of clogged pores with P. acnes.
The new cosmetic active Seboclear-MP (INCI: Propanediol (and) Bioflavonoids) can perform these multiple functions. It contains bioflavonoids from Maclura cochinchinensis, which are able to suppress the activity of key enzymes involved in the development of acne. It also is able to reduce the activity of 5α-reductase, the enzyme that processes testosterone into DHT (dihydrotestosterone, the hormone responsible for triggering the production of sebum by the sebaceous gland).
However, this is not enough, as a subliminal inflammatory state encourages sebum production as well. A key component in inducing inflammation is arachidonic acid. This is converted by two enzyme cascades into prostaglandins and leukotrienes, responsible for the attraction of immune cells and the creation of pain. Only if both enzyme pathways are blocked, can inflammation be reduced effectively. The bioflavonoids of M. cochinchinensis are able to block both the COX-1 and COX-2 as well as the 5-LOX enzymes, shutting down both inflammatory pathways.
Persistent acne is the result of a shift in the expressome of keratinocytes and sebocytes. To influence this, retinoic acid is used by dermatologists. As this is restricted, there is a need for alternatives. Here as well, the bioflavonoids can take over: by activating the RAR and RXR receptors, the sebocytes are reprogrammed to produce less sebum. As a last activity, Seboclear-MP is able to increase the biodiversity of skin by suppressing the growth of P. acnes.
As a result, it is possible to influence all main trigger factors for the development of acne with just one plant extract.
Laure-Anne Gillon, Business Development Manager, Beauty Care Actives, Seppic
Danielle Harrington, Operational Marketing Manager, Beauty Care, Seppic
Blemishes occur due to numerous factors: hormones, environment, stress, among others.
Skin becomes unbalanced, resulting in hyper seborrhea (oily skin). The increase of sebum produces an excess of irritating fatty acids causing blemishes, scars, dullness, and more.
To prevent blemishes, we can target different causes:
Sebum quantity;
Lipase activity;
Bacteria-releasing fatty acids; and
Soothing the skin.
At Seppic, we strongly believe in the power of nature, drawing inspiration from adaptations of the species around us. The algae Laminaria Saccharina has created defenses to protect itself from lipase of herbivores, which we can use to reduce lipase activity on the skin. The extract of this algae, Phlorogine BG PF (INCI: Water (aqua) (and) Butylene Glycol (and) Laminaria Saccharina Extract), rich in phlorotannins, inhibits lipase activity and reduces sebum production by 29% after 1 month.
Subligana (INCI: Glycerin (and) Water (aqua) (and) Harungana Madagascariensis Extract), an extract from a protective tree in Madagascar, works on three pathways to reduce acne:
Inhibits P. acnes;
Protects against lipid peroxidation (which inflames the skin); and
Has a strong soothing effect.
Clinical results show a reduction of whiteheads by 34% on acne prone skin after 28 days.
Seppic also developed a cocktail of cinnamon extract and glycine Aminovector, Sepicontrol A5 (INCI:Capryloyl Glycerin (and) Sarcosine (and) Cinnamomum Zeylanicum Bark Extract), which reduces sebum production, acne lesions and microbial growth while controlling inflammation. Clinical results: -78% comedones after 8 weeks, -20% sebum.
To create an optimal sensory experience, we should consider:
Strengthening the lipid barrier;
Oil absorption; and
Mattifying.
Montanov emulsifiers promote liquid crystals, strengthening the lipid barrier and allowing excellent skin affinity. For acne-prone skin, a matte effect is key. Seppic has studied the matte effect of Montanov 202 (INCI: Arachidyl Alcohol (and) Behenyl Alcohol (and) Arachidyl Glucoside); results showed that shine was reduced by 98% in a formulation (Montanov 202 at 3%).
To offer immediate benefits, the Sepimat range provides oil absorption, matte effects and smooth, powdery textures. Sepimat HBV (INCI: Methyl Methacrylate Crosspolymer) is a hollow sphere providing an anti-shine effect with supreme softness and extreme oil-absorption capacity (90-100 g of oil/100 g Sepimat HBV).
Future Roundtables
To participate in a future Supplier Roundtable, contact Cosmetics & Toiletries assistant editor Brooke Schleehauf at bschleehauf@allured.com. Upcoming topics will cover:
Formulating Softness and Shine in Hair (June)
How to Go Green and Remain in the Black—Case Studies (July)
Proxy Formulating: Using Alternative Ingredients (September)
Formulating Multifunctional Products (October)
Hitting the Rheology Bullseye (November)