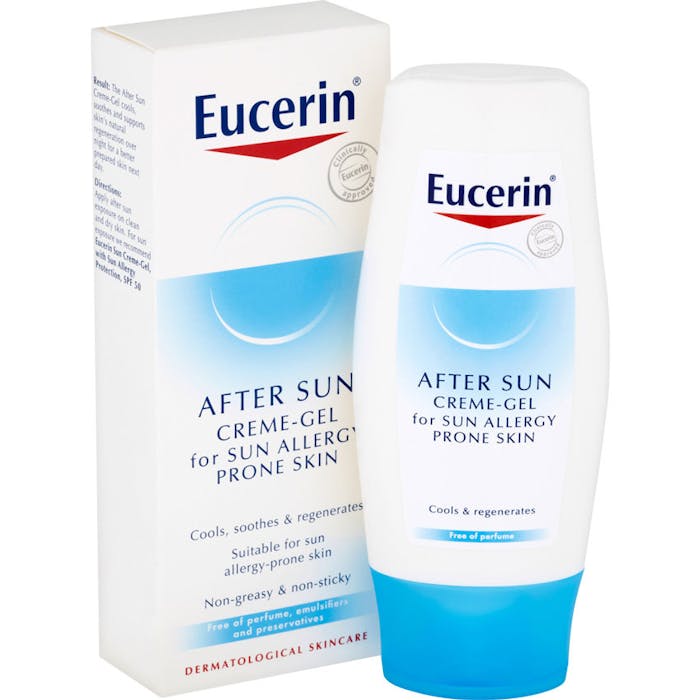 https://www.escentual.com/eucerin/eucerinsun010/
Beiersdorf's Eucerin brand After Sun Creme Gel is designed for sun-allergy prone skin. The product states that Eucerin (Beiersdorf) teamed up with dermatologists to deliver this targeted skin care, which is suitable for a range of skin conditions. 
The product combines two potent natural ingredients. First, alpha-glucosyl-rutin (AGR), an antioxidant, is reportedly clinically proven to shield from sun allergies whilst supporting the skin's own protection system against triggers of sun allergy. The second ingredient is licorice root extract (Glycyrrhiza inflata), which is said to protect deeper layers of the skin against UV penetration.
The soothing creme-gel was formulated to feel comfortable on the skin without a sticky or greasy residue. It is said to regenerate skin over night. Users are to apply it after sun exposure on clean and dry skin.
This column will review the ingredient listing for claims substantiation and functionality.
Water Base
The formula is a water-based system containing glycerin, a humectant, and ethanol and butylene glycol as solvents. Glycine, an amino acid; sodium citrate and citric acid are buffering agents. Tapioca starch consists primarily of amylose andamylopectin and acts as a viscosity-increasing agent.
Hydrophobic Phase
The hydrophobic phase consists of C12-15 alkyl benzoate, an emollient with antimicrobial properties, along with the occlusive and conditioning caprylic/capric triglyceride; as well as octyldodecanol and dicaprylyl ether. The formula also contains the silicone polymers cyclomethicone and dimethiconol. Acrylates/C10-30 alkyl acrylate crosspolymer is a film-forming agent.
Stability and Preservation
The formula is stabilized by the viscosity-controlling agent xanthan gum. Tocopherol and isoquercitrin serve as antioxidants, and ethylhexylglycerin acts as a weak preservative and skin-conditioning agent.
Active Ingredients
The active ingredients, apart from glycerol, are glucosylrutin and licorice root extract. Alpha-glucosylrutin is a potent antioxidant with efficacy demonstrated both in vitro and in vivo. In clinical studies, the molecule has proven effective in the prevention of skin diseases in which oxidative stress plays a role, as well in anti-aging.
The licorice root plant extract has anti-inflammatory, antimicrobial and antioxidative properties. This extract is likely to contain a range of naturally biologically active components, e.g., triterpene saponins, flavonoids, isoflavonoids, chalcones and glycyrrhizic acid, which also are known to enhance skin lightening and alleviate hyperpigmentation.
The Glycyrrhiza glabra licorice species is often used in skin care, whose triterpenoid and flavonoid content can be diverse. Interestingly, these compound groups are found in the lowest concentrations in G. inflata.
Conclusions
In my view, these ingredients support the claims aligned with antioxidant activity, anti-allergy after-sun protection, as well as soothing hydration with an occlusive and emollient cream-gel formula.
Ingredients: Water (aquai), Glycerin, Alcohol Denat., Butylene Glycol, Tapioca Starch, C12-15 Alkyl Benzoate, Glycine, Sodium Citrate, Cyclomethicone, Caprylic/Capric Triglyceride, Octyldodecanol, Dicaprylyl Ether, Citric Acid, Xanthan Gum, Glucosylrutin, Glycyrrhiza Inflata Root Extract, Tocopherol, Isoquercitrin, Dimethiconol, Acrylates/C10-30 Alkyl Acrylate Crosspolymer, Ethylhexylglycerin
https://int.eucerin.com/products/sun-protection/after-sun-creme-gel