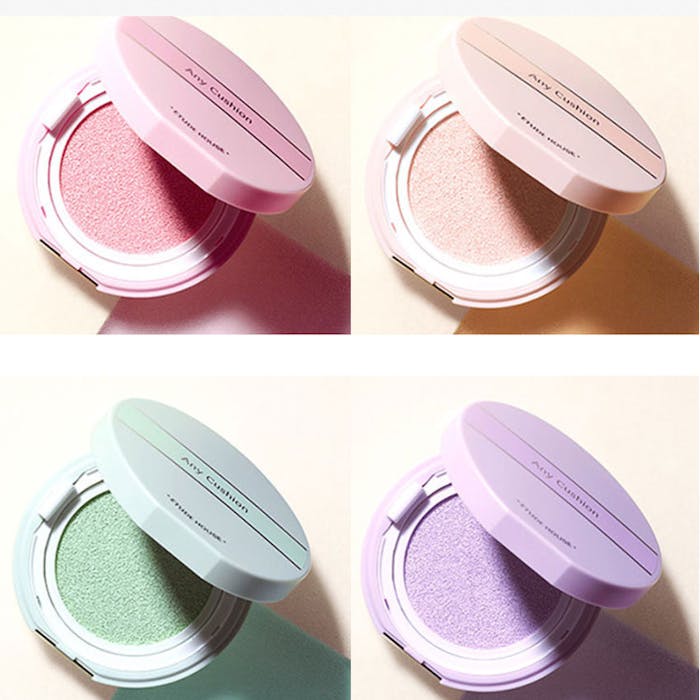 Any Cushion Color Corrector SPF 34 Pa++, by Etude House, falls into the multi-tasking category, in between makeup and skin care, which are popular among Millennials. This color correcting-illuminator claims to make skin tone and texture look even and clean with its finely designed color. Presented in a cushion, the product is applied with a puff to spread evenly by patting onto the skin. This column will review the ingredient listing for claims substantiation and functionality.
The illuminating base is a water-in-silicone system (w/s), which gives it the added advantage of being lightweight, with water and sea water as a base solvent. There are multiple forms of silicone derivatives such as cyclopentasiloxane, dimethicone, cyclohexasiloxane, PEG-10 dimethicone, lauryl PEG-8 dimethicone, trixilosane, trimethylsiloxysilicate and acrylates/ethylhexyl acrylate/dimethicone methacrylate copolymer. These silicones are film-forming and emulsifying, and added for a silky feel.
Tricaprylin is an emollient and butylene glycol dicaprylate dicaprate adds to the lightness of the feel, while polymethyl methacrylate is a film-forming polymer. The ultraviolet (UV) filters present are ethylhexyl methoxycinnamate, one of the most frequently used organic UV filters, and titanium dioxide and zinc oxide, which are naturally sourced broad spectrum sunscreens. The titanium dioxide is likely coated with aluminium hydroxide and stearic acid; triethoxycaprylylsilane is also a lightweight silicone derivative surface treatment.
Disodium EDTA is a chelator to improve stability and boost preservative efficacy, as do propanediol and ethylhexylglycerin. Salt helps to stabilize the system preserved with phenoxyethanol. To achieve the final color, the formulas contain different pigments: titanium dioxide, iron oxides and chromium oxide greens, and mica. The formula also contains fragrance.
The "bio-active" ingredients include niacinamide, adenosine, Prunus mume fruit extract and Nelumbo nucifera flower extract. Niacinamide, known as vitamin B3 and nicotinic acid, offers multiple benefits such as the ability to visibly improve the appearance of enlarged pores, uneven skin tone and dullness.
Adenosine, in a small concentrations, aids skin conditioning. Prunus mume fruit extract acts as a humectant and potentially a probiotic. This extract is sourced from Chinese Plum and has been used traditionally as an antimicrobial remedy for skin conditions. The Asian sacred lotus (Nelumbo nucifera) is recognized for its cultural and medicinal values, dating back as far as 4,000 years. Skin benefits include brightening skin tone and enhancing skin texture.
Taken together, these ingredients are likely to support the claims of the color-correcting illuminator: enhancing skin tone and texture to achieve an even and clean color appearance.
Ingredients: Pink: Water (aqua), Sea Water, Cyclopentasiloxane, Ethylhexyl Methoxycinnamate, Propanediol, Dimethicone, Cyclohexasiloxane, Butylene Glycol Dicaprylate/Dicaprate, PEG-10 Dimethicone, Titanium Dioxide (CI 77891), Tricaprylin, Niacinamide, Lauryl PEG-8 Dimethicone, Zinc Oxide, Trisiloxane, Titanium Dioxide, Disteardimonium Hectorite, Trimethylsiloxysilicate, Disodium EDTA, Mica (CI 77019), Prunus Mume Fruit Extract, Sodium Chloride, Stearic Acid, Adenosine, Acrylates/Ethylhexyl Acrylate/Dimethicone Methacrylate Copolymer, Aluminum Hydroxide, Ethylhexylglycerin, Nelumbo Nucifera Flower Extract, Triethoxycaprylylsilane, Polymethyl Methacrylate, Phenoxyethanol, Iron Oxides (CI 77491), Fragrance (parfum)
Ingredients: Mint: Water (aqua), Sea Water, Cyclopentasiloxane, Ethylhexyl Methoxycinnamate, Propanediol, Dimethicone, Cyclohexasiloxane, Butylene Glycol Dicaprylate/Dicaprate, PEG-10 Dimethicone, Titanium Dioxide (CI 77891), Tricaprylin, Niacinamide, Lauryl PEG-8 Dimethicone, Zinc Oxide, Trisiloxane, Titanium Dioxide, Disteardimonium Hectorite, Trimethylsiloxysilicate, Disodium EDTA, Mica (CI 77019), Prunus Mume Fruit Extract, Sodium Chloride, Stearic Acid, Adenosine, Acrylates/Ethylhexyl Acrylate/Dimethicone Methacrylate Copolymer, Aluminum Hydroxide, Ethylhexylglycerin, Nelumbo Nucifera Flower Extract, Triethoxycaprylylsilane, Polymethyl Methacrylate, Phenoxyethanol, Chromium Oxide Greens (CI 77288), Fragrance (parfum)
Ingredients: Lavender: Water (aqua), Sea Water, Cyclopentasiloxane, Ethylhexyl Methoxycinnamate, Propanediol, Dimethicone, Cyclohexasiloxane, Butylene Glycol Dicaprylate/Dicaprate, PEG-10 Dimethicone, Titanium Dioxide (CI 77891), Tricaprylin, Niacinamide, Lauryl PEG-8 Dimethicone, Zinc Oxide, Trisiloxane, Titanium Dioxide, Disteardimonium Hectorite, Trimethylsiloxysilicate, Ultramarines (CI 77007), Disodium EDTA, Prunus Mume Fruit Extract, Sodium Chloride, Stearic Acid, Adenosine, Acrylates/Ethylhexylacrylate/Dimethicone Methacrylate Copolymer, Aluminum Hydroxide, Ethylhexylglycerin, Nelumbo Nucifera Flower Extract, Triethoxycaprylylsilane, Polymethyl Methacrylate, Phenoxyethanol, Mica (CI 77019), Fragrance (parfum)
Ingredients: Illuminate: Water (aqua), Sea Water, Cyclopentasiloxane, Ethylhexyl Methoxycinnamate, Propanediol, Dimethicone, Cyclohexasiloxane, Titanium Dioxide (CI 77891), Butylene Glycol Dicaprylate/Dicaprate, PEG-10 Dimethicone, Tricaprylin, Niacinamide, Lauryl PEG-8 Dimethicone, Zinc Oxide, Trisiloxane, Titanium Dioxide, Disteardimonium Hectorite, Trimethylsiloxysilicate, Disodium EDTA, Prunus Mume Fruit Extract, Sodium Chloride, Stearic Acid, Adenosine, Acrylates/Ethylhexylacrylate/Dimethicone Methacrylate Copolymer, Aluminum Hydroxide, Ethylhexylglycerin, Nelumbo Nucifera Flower Extract, Triethoxycaprylylsilane, Polymethyl Methacrylate, Mica (CI 77019), Phenoxyethanol, Iron Oxides (CiI 77491), Fragrance (parfum)