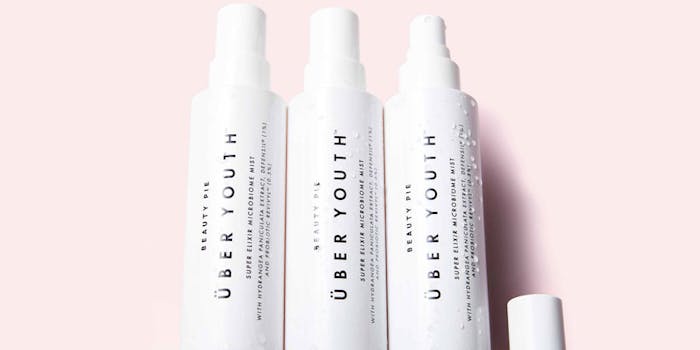 Beauty Pie
This 'Read the Label' looks at a growing trend, microbiome cosmetics, and the product under review is Beauty Pie's Über Youth Super Elixir Microbiome Mist-On Serum.
Related: Review Explores Skin Microbiome, Aging/Health Connections and Testing Challenges
Beauty Pie was founded by serial entrepreneur Marcia Kilgore, known for her former brands Soap & Glory, FitFlop footwear and Soaper Duper. In 2016, Kilgore created Beauty Pie–a no-nonsense, high-end cosmetics brand with exclusive membership benefits. Members can sign up for a monthly fee and receive an allowance to spend on heavily discounted products each month. Non-members can, of course, purchase from the site but prices are higher.
When the microbiome is discussed in terms of cosmetics, this refers to the microbiome living on skin, within which there are "good" and "bad" microorganisms. It's a fairly new concept to see certain microbiome claims on cosmetics, such as probiotic or products claiming to "feed the good bacteria on the skin." These types of claims are becoming more popular due to the rise in hand-washing and over-sanitizing, which are processes that disturb the microbiome and skin barrier function and therefore cause damage such as redness or cracked skin.
Beauty Pie has claimed the microbiome mist-on serum prevents skin aging; balances the microbiome; protects the skin barrier; and minimizes both inflammation and glycation. The product is said to contain anti-wrinkle, antioxidant, anti-hyperpigmentation and anti-glycation collagen boosters, plus "skin barrier-supporting Defensil" and "dynamic probiotic Revivyl (INCI: Propanediol (and) Orobanche Rapum Extract) in a state-of-the-art hexasomal delivery system."
The ingredients below in bold are ones I believe are strongly contributing to the product's performance and claims:
Ingredients: Water (Aqua), Butylene Glycol, Glycerin, Propanediol, Alcohol, Phenoxyethanol, Glyceryl Tetrahydrofarnesylacetate, Sodium Citrate, PEG/PPG-200/70 Copolymer, Ethylhexylglycerin, Alcaligenes Polysaccharides, Albatrellus Ovinus Extract, Hydrangea Paniculata Flower/Fruit Extract, Citric Acid, Orobanche Rapum Extract, Potentilla Miyabei Callus Extract, Ceramide NG.
Editor's note: While the "Read the Label" series provides an overview of the ingredients cosmetic manufacturers use and their related claims, without use levels or access to clinical studies, the author is drawing conclusions based on speculation—albeit from training, formulating experience and, in some instances, evidence in the literature. The following is offered for your consideration and further verification.
Butylene Glycol
This glycol is predominantly used for its moisturization and solubilizing properties. Available from both synthetic and natural sources, the ingredient is lightweight, aids spreadability and causes no skin irritation.
Glycerin
It's interesting to see that after water, the first three ingredients in this product are all-powerful moisturizing ingredients. Glycerin is the powerhouse of humectants, providing long-lasting skin hydration. It is a humectant attracts moisture from its surroundings and draws it into the skin.
Previously: Extracting Plants Using Supercritical Glycerin
Propanediol
Usually derived from corn, this is a natural, vegan, colorless solvent. Propanediol is a humectant that, as previously stated, draws moisture into the skin. It has preservation boosting properties, which means in some cases, formulators can lower the percentage of preservatives used in products and still achieve safe challenge test results.
Using propanediol instead of a similar synthetic product such as propylene glycol can reduce a brand's CO2 consumption. Propanediol also supports additional moisturization and reduced TEWL.
Alcohol
Alcohol is used in this product to aid a quick-drying effect. Note that it is used at a lower concentration than the main moisturizing ingredients, which suggests the product will dry fairly quickly on skin but won't dry the skin out completely.
Alcaligenes Polysaccharides
This ingredient is a natural gelling agent made from polysaccharide fermentation that holds more than 1,000× its own weight in water. At higher usage levels, it can modify the viscosity and rheology of a product to create a gelled structure but at lower levels, e.g., less than 1%  (as is used in this product), it provides moisturizing benefits due to its strong moisture retention properties.
Albatrellus Ovinus Extract
This is the active ingredient inside the reported active Defensil, used at 1% (not active content). It is derived from Finnish Albatrellus mushrooms and supports the skin barrier to reduce inflammation and instantly soothe irritation.
Hydrangea Paniculata Flower/Fruit Extract
The brand states this material is used at 2.5% (not active content). As the ingredient name suggests, it is an extract of the fruit and flower of the Hydrangea paniculata plant.
Featured: Voodoo Lily, Hydrangea, MSM and More: Nutricosmetics in the Literature 
The ingredient is also a humectant, drawing moisture to skin to reduce fine lines, and provides anti-glycation properties to slow the appearance of pigmentation or dark circles.
Orobanche Rapum Extract
This is the active ingredient inside the claimed material Revivyl used at 0.5% (not active content). It is produced from a bio-guided fractionation of the chlorophyll-free plant Orobanche rapum. This plant has powerful antioxidant capabilities, as well as a reactivation effect on the natural skin renewal cycle. 
Enhancing the renewal cycle protects the skin microflora, as it increases the skin's barrier function by increasing vital lipids, proteins and skin hydration; it also imparts powerful anti-aging effects.
Potentilla Miyabei Callus Extract
Originating from the potentilla flower, this extract is used at 1% in the product (not active content) and is responsible for the anti-glycation effects to brighten the skin tone. As well as having strong anti-glycation effects, this ingredient is an antioxidant and supports anti-aging or anti-wrinkle claims. 
Ceramide NG
This ceramide is found naturally in the human body and is a vital substance in human cell walls/lipid bilayers. There are nine ceramides in the human body and these are made up of amino alcohol called sphingosine. Each ceramide contains a different fatty acid chain in its chemical structure.
Use Instructions
To use the product, consumers spray it onto their clean face, neck and chest both morning and evening, before applying any serum, moisturizer or mask. The microbiome serum mist can be purchased online. The member's price is £17.64 for 95 mL ($20.67 for 3.2 fl mL) or the non-member price is £80 for 95 mL ($90 for 3.2 fl mL).
Source: Beauty Pie

Previous "Read the Label:" Selfless by Hyram—Mandelic Acid & Rice Bran Gentle Exfoliating Serum
Disclaimer: This article was produced in the UK and therefore the INCI listing and INCI names comply with European labeling requirements.