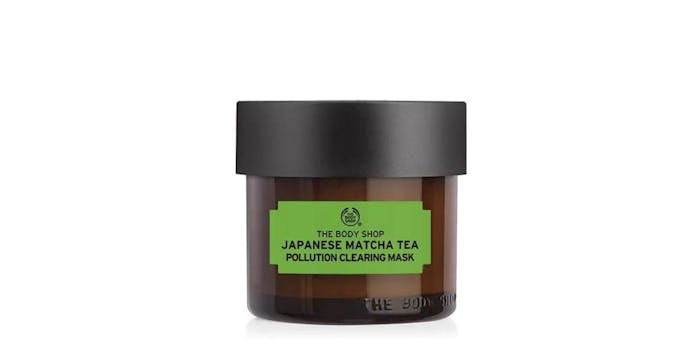 The Body Shop
Pollution levels are at an all-time high across the globe, resulting in an increased use of anti-pollution skin care claims, year on year. The term pollution can cover many things but in skin care, the main aspects are: indoor pollution, for instance blue light emissions from devices; and outdoor air pollution such as particulate matter from engines.
This "Read the Label" column focuses on The Body Shop's Japanese Matcha Tea Pollution Clearing Mask (£18 for 75 mL). The product claims to help remove pollutants and impurities to reveal radiant, younger-looking skin. A study conducted with the mask reportedly showed 91% of women agreed they felt pollution was removed from their skin after using it (based on trial results from 103 women).
To use the product, consumers are directed to remove all makeup and cleanse the skin, then apply a layer of the mask to the face and leave it on for 5-10 min. Rinsing should be carried out with warm water while rubbing the skin in gentle circular motions for mild exfoliation. The Body Shop suggests using the product 2-3 times per week for optimal results.
Editor's note: This column reviews the ingredient listings on products for claims substant­iation and function­ality. In addition, the product was tested personally by the author; she offers the below insights. While the "Read the Label" series provides an overview of the ingredients cosmetic manufacturers use and their related claims, without use levels or access to clinical studies, the author is drawing conclusions based on speculation—albeit from training, formulating experience and, in some instances, evidence in the literature. The following is offered for your consideration and further verification.
In-use Testing
I live in London where pollution levels are high, and after being on the underground tube, I can physically feel particulate matter building up on my face. After using this product for a week, however, I have to say my face feels cleaner and pollution has, quite literally, been sucked out of my skin.
The product is pale green in color and has a gentle green tea aroma. The formula is quite unique as it's bouncy to the touch, so I would usually expect the product pick-up to be poor but its pick-up is acceptable.
The mask starts to dry after 5 min and you can feel it gently tightening on the skin. When I first applied the product, it irritated my skin a little but this happens regularly with me. After a couple of uses, this sensation stopped.
I was really impressed with this mask as it doesn't leave your skin too dry afterward. My face felt soft to touch due to the gentle exfoliation it provides.  
From the below INCI disclosure of the product, I've selected some key ingredients used in it and have reviewed how they are contributing to the product's performance.
Ingredients: Aqua, Kaolin, Propanediol, Olea Europaea Fruit Oil, Glycerin, Cetearyl Alcohol, Luffa Cylindrica Fruit, Butyrospermum Parkii Butter, Glyceryl Stearate, PEG-100 Stearate, Phenoxyethanol, Parfum, Caprylyl Glycol, Polysorbate 60, Sodium Polyacrylate, Prunus Armeniaca Seed Powder, Acrylates/C10-30 Alkyl Acrylate Crosspolymer, Aloe Barbadensis Leaf Juice Powder, Tocopherol, Trisodium Ethylenediamine Disuccinate, Butyl Methoxydibenzoylmethane, Taraxacum Officinale Rhizome/Root Extract, Menthol, Sodium Hydroxide, Tetrasodium Pyrophosphate, Limonene, Citric Acid, Camellia Sinensis Leaf Extract, Ethylhexylglycerin, Sodium Benzoate, Potassium Sorbate, Caramel, CI 19140, CI 42090.
Kaolin
This mined material is ground to form a powder and is commonly used in "detoxifying" mask products. Kaolin has absorbent properties and is known for extracting trapped dirt, as well as particulate matter that has built up on the surface of the skin from contact with air pollution. It is also good for troubled skin, as it can absorb excess sebum.
Propanediol
Usually derived from corn, this is a natural, colorless solvent. It can also be produced synthetically, but I believe it's the natural grade used in this product. Propanediol is a humectant that draws moisture into the skin and will help keep the mask formulation wet in its packaging, as high concentrations of kaolin can sometimes dry products out. Propanediol has preservation-boosting properties, which means in some cases, you can lower the percentage of preservative used in your products and still achieve safe results.
Luffa Cylindrica Fruit
Most people will have used a luffa sponge at some point to clean themselves in the shower; however, this is likely to have been a synthetic luffa sponge. Luffa cylindrica fruit is a natural fruit that looks a little like a cucumber. It is often eaten in parts of Asia whilst the fruit is still young but once it has aged and dried out, it forms a brittle sponge-like texture.
In this product, ground natural luffa has been used to achieve mild exfoliation properties. This will encourage the desquamation of the top layers of the stratum corneum, as well as remove trapped particulate matter.
Prunus Armeniaca Seed Powder
This ingredient is another exfoliator: apricot seed that has been ground into a powder. It is commonly used in exfoliating products across the cosmetic industry, and is more brittle than luffa fruit, so provides a deeper exfoliation to ensure any trapped debris are removed from the surface of the skin.
It is lower down on the INCI list, which suggests it is used at much lower concentrations than the luffa fruit—which is understandable, as the mask is designed to be used 2-3 times a week, so it mustn't exfoliate too vigorously.   
Aloe Barbadensis Leaf Juice Powder
The leaves of Aloe vera are harvested, filleted and then dried to form leaf juice powder. Adding the powder to water during formulation simply rehydrates it. Aloe vera is a known adaptogen, which causes the body to resist stress (including pollution stress). It is one of The Body Shop's community trade materials, meaning it's sourced from a traceable supply chain fairly, ethically and sustainably.
Aloe vera can be notoriously difficult to formulate with, and from my own experience, it likes to turn formulas brown. This is due to its high mineral content. As such, a chelating agent is often necessary to prevent this occurrence.
Trisodium Ethylenediamine Disuccinate
This ingredient is a biodegradable chelating agent that helps to keep products stable. Metal ions, e.g., minerals such as Fe or Cu, within water or within other raw materials such as Aloe vera are sometimes present in small amounts in formulations and can react with oxygen in the air to form discoloration. This chelating agent will bind to the metal ions and prevent them from oxidizing, keeping the product stable.  
Camellia Sinensis Leaf Extract
Finally, green tea is a powerful antioxidant that reduces ROS in the skin created by pollution exposure. It is interesting to see this ingredient, which is claimed in the product name, so low down on the INCI list, which suggests it could be below 1% in the formula. However, after visiting Japan recently and trying matcha green tea for myself, I know it is a powerful ingredient...so a little goes a long way.
Disclaimer: This article was written in London and therefore the INCI listing and INCI names comply with European labelling requirements.
Source: The Body Shop