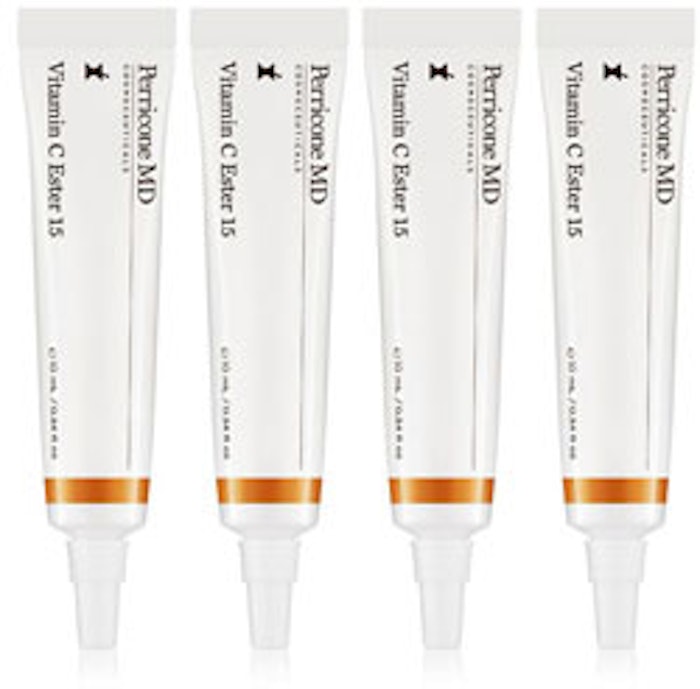 The inclusion of vitamins in cosmetics, especially vitamin C for its anti-aging benefits, has been a trend for many years. Perricone MD Vitamin C Ester 15 is a cream with a high concentration of vitamin C ester, a more stable form of vitamin C ascorbic acid. This column will review the ingredient listing for claims substantiation and functionality.
The cream is a traditional o/w emulsion with the emollients ascorbyl palmitate, vitamin C ester and isopropyl palmitate comprising the primary oil phase. Cetearyl alcohol is the thickener and stabilizing agent, and glyceryl stearate, PEG-100 stearate and ceteareth-20 are the emulsifiers. Dimethicone, cyclopentasiloxane and cyclohexasiloxane are the silicone-derived feel agents that provide slip and glide to the cream. Any ingredient listed after dimethicone is probably in the formula at less than1%.
Ascorbyl palmitate and its more expensive cousin tetrahexadecyl ascorbate convert to ascorbic acid in the skin to promote collagen production to increase firmness, smooth skin texture, even skin tone and promote clarity. The product's consumer use study claims impressive results after seven days of use, and the high concentration of vitamin c ester is responsible for the fast track complexion rejuvenation.
The "bio-active" or cosmeceutical ingredients also include tocotrienols (mixed tocopherols), tocopherol (vitamin E) and sodium hyaluronate, a "super" humectant.
The paraben-free preservative system consists of phenoxyethanol, caprylyl glycol, zinc sulfate and sorbic acid, and it is boosted by the chelating agent disodium EDTA.
The product is scented with fragrance (parfum), but also highlights the individual fragrance components limonene, linalool and citral.