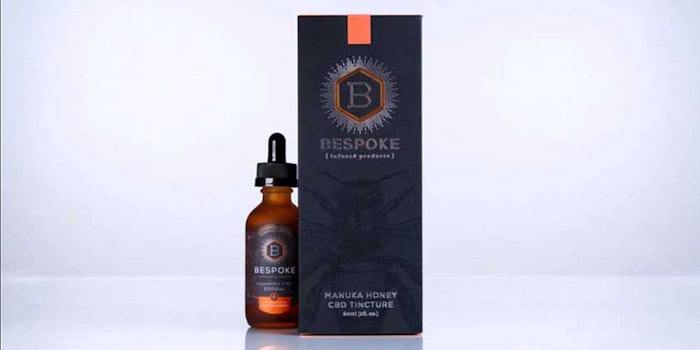 Bespoke Extracts
Bespoke Extracts, Inc. has developed all-natural cannabidiol (CBD) products in the form of tinctures, balms, lotions and capsules for mental and physical aid.
Related: [podcast] Sleep, Skin and the Microbiome
The company recently announced a "soft launch" with limited offerings available including tinctures for sleep and body-boosting, and soft gels for pain relief. Bespoke products use phytocannabinoid-rich ("PCR"), hemp-derived CBD and are vegan, Fair Trade-certified, GMO-free and organic hemp-derived.
An expanded product line will be released on Sept. 7, 2020. This will include a CBD cream to soothe, relax and calm the body and skin. 
As previously discussed, when sleep is disturbed, it can harm the skin's microbiome but a good night's sleep can aid beauty, specifically skin care. To help promote sleep and improve overall health, consumers often turn to digestible sleep aids such as melatonin or CBD-based products—such as those at the forefront of Bespoke's launches.
For example, The Manuka Raw UMF16+ Honey Tincture (1000 mg/60 mL) is positioned as a sleep aid to reduce anxiety while providing nutritional benefits and antibacterial properties. The CBD offers rapid absorption into the body through the digestive system, whereas other oil-based tinctures reportedly require absorption through the sublingual and lingual cavities.
The Full Spectrum CBD Tincture (2 oz/1500 mg) is a post-workout recovery and body booster with a lemon-lime flavor. According to the company, CBD is known for restorative properties in the muscular system, relieving muscle aches and soreness.
Finally, the THC-Free CBD Isolate Infused Softgels (1500 mg) are large-dose gel pills reported to reduce anxiety, pain and aid in sleep. The encapsulates are designed to provide an easier and effective way to experience the effects of CBD.
Ingredients (Manuka Raw UMF16+ Honey Tincture): Organic Manuka Honey, Organic Blue Agave Syrup, Water (Aqua), Crystalline Cannabidiol, Organic Citric Acid, Dipotassium Phosphate, Guar Gum.