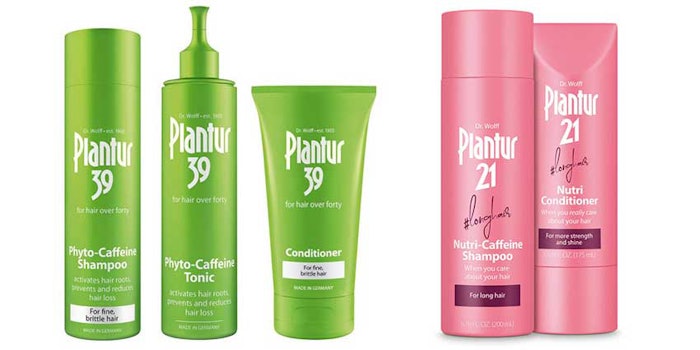 Plantur39.com
Dr. Wolff USA launched two products in the United States: Plantur 21, a nutri-caffeine hair care line for long hair; and Plantur 39, a line of phyto-caffeine hair care products for consumers over 40.
Related: Koffee'Up: Givaudan's Upcycled Coffee Oil for Well-aging
According to the company, the two products were originally released in Germany and after gaining popularity, they have been launched on the U.S. market.
Plantur 21
Plantur 21 Nutri-Caffeine Shampoo and Conditioner are crafted for long hair with a proprietary blend of caffeine, zinc and niacin (the Nutri-Caffeine complex) along with biotin, cashmere, calcium and magnesium. The formula is said to prevent hair over-saturation so as not to appear greasy, and instead leaves hair looking bouncy and shiny, and prepared for heat and styling.
"Styling products and practices take a toll on women's tresses and over time, longer hair gets damaged," says Titus Juenemann, president of Dr. Wolff USA. "It can look dull or lifeless, so consumers with long hair really need products to breathe life back into hair."
Plantur 39
Plantur 39 Phyto-Caffeine Shampoo, Conditioner and Scalp Tonic are specifically designed for women over 40 to cleanse the scalp to promote natural hair growth. The nourishing products contain a proprietary formula, the Phyto-Caffeine Complex, which strengthens hair that may become thin and weakened by hormonal changes.
Previously: Getting Hairy: Greentech's Hairiline
In collaboration with the dermatological institute of the University Clinic Jena, Dr. Wolff reportedly refined its formula to include caffeine, micronutrients and other essential phyto-nutrients that provide nourishment to thinning hair. According to the company, zinc and niacin fortify weakened strands and improve hair's overall appearance; white tea infuses antioxidative and anti-aging benefits; and hydrolyzed wheat protein adds strength. With consistent product use, the hair can feel and look thicker and fuller.
"We hear so much about the look of men's thinning hair but many women worry as well, particularly those experiencing perimenopause and menopause," continued Juenemann. "As the estrogen level within the female body drops, possible consequences include hair growing thinner, a more visible scalp and receding hairline."
Ingredients (Plantur 39 Phyto-Caffeine Shampoo): Water (Aqua), Sodium Laureth Sulfate, Cocamidopropyl Betaine, Sodium Chloride, Glycerin, Caffeine, Panthenol, Propylene Glycol, Coco-Glucoside, Glyceryl Oleate, Parfum, Polyquaternium-7, Sodium Citrate, Hydrolyzed Wheat Protein, Citric Acid, Potassium Sorbate, Polyquaternium-10, Camellia Sinensis Extract, Hexyl Cinnamal, Sodium Benzoate, Zinc PCA, Niacinamide, Limonene, Linalool, Phenoxyethanol, Methylparaben, Propylparaben, CI 47005, CI 42090. 
Featured: Resveratrol Analogue and Equol Revive Menopausal Skin