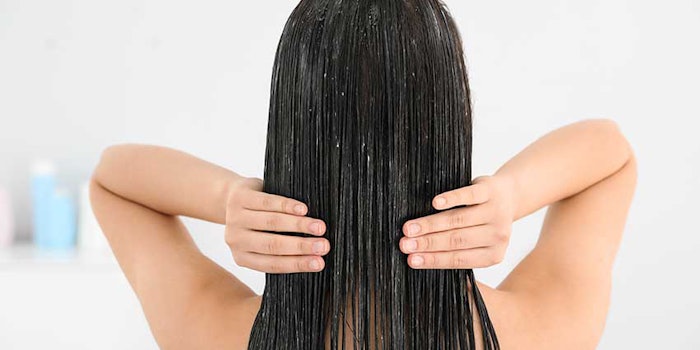 ID 151644427 © Chernetskaya | Dreamstime.com
The most common type of hair loss in women is female pattern hair loss (FPHL). This condition often presents itself in women in their 40s, 50s and 60s, and is known to be a progressive condition. However, in some rare cases, it can present itself at an earlier age.
Related: Nutraceuticals Benefit Hair Wellness and Growth
With FPHL, women often see a widening hair part along with a receding temple line. Major factors causing it include genetics, menopause and hormones, and even a combination of these. To address FPHL, a dermatologist may prescribe minoxidil, combined with a gentle hair care routine.1
The American Academy of Dermatology Association (ADD) recommends a handful of tips to help with FPHL.2 First, if the consumer feels that hair loss is becoming excessive or begins to notice a widening of the hair part, they should contact a board-certified dermatologist to properly diagnose any medical conditions and get to the root of the issue.
In addition, hair that is thinning or falling out is extremely fragile and should be handled as such. The AAD notes it is important to use a gentle shampoo to cleanse the scalp while also trying to prevent stripping of the scalp and hair of moisture. Every shampoo should be followed up with a hydrating conditioner to coat the strands to help prevent breakage. Leave-in conditioners are additionally vital to help provide increased ease of combability to reduce hair loss while brushing and combing. Finally, it is important to eliminate harsh hair treatments and heat from the hair routine, which include hot oil treatments, hair styling irons, coloring and perming.2
As mentioned, having a conditioner that helps preclude additional breakage and increasing combability is vital to aid in the prevention of hair loss. This formulation should be an emulsion-based product to help deliver proper hydration to the hair.
Previously: Dr. Wolff Controls Hair Loss, Promotes Growth for Women 40+
Surfactants/Emulsifiers
Hair has a natural negative charge, so the use of cationic emulsifiers will be vital since they have a positive charge in the hydrophilic group. It is imperative to note that cationic emulsifiers are generally not compatible with anionic surfactants, so it would also be important to omit those from formulations.
The positive charge on the cationic emulsifier makes it electrostatically attracted to damaged sites on the hair. Some cationic emulsifiers to consider for conditioners are quaternary ammonium chlorides (quats) and alkylamines. Examples of quats and alkyl amines include: behentrimonium chloride, cetrimonium chloride, hydroxypropyl guar hydroxypropyltrimonium chloride and stearamidopropyl dimethylamine.
Nonionic emulsifiers have no charge on the hydrophilic head. These are great for cosmetics when it comes to compatibility and stability. Such ingredients tend to have conditioning, emulsifying and solubilizing properties. Nonionic fatty alcohols such as cetearyl alcohol, decyl alcohol and cetyl alcohol are emulsifiers that can be used to ensure stability and assist in reducing irritation. In addition, the added OH group helps to increase the water solubility, to help allow the water and oil to peacefully co-exist in an emulsion. Alkyl glucosides are also known as foam boosters and irritation reducers. Some examples include coco-glucoside, glyceryl glucoside, lauryl glucoside and decyl glucoside.
Amphoteric surfactants are unique because they exhibit both positive and negative charges, which means they display a variety of characteristics such as foam boosting, improved conditioning and reduced irritation—all of which are important when it comes to formulating a conditioner for hair loss.
Featured: Path Uncovered to Create Dermal Papilla-like Cells and Advance Hair Follicle Growth
Foam boosting also assists in the spreadability of the product onto the hair so that the hair is coated evenly. Improvements in conditioning and irritation reduction are also vital because consumers who suffer from hair loss often have fragile hair and scalps. Betaines such as cocamidopropyl betaine are a great option because they are mild and provide moderate foaming. Amphoacetates are great as well since they have a light emollient effect, along with irritation-reduction properties; one popular example typically found in shampoos and conditioners is sodium lauroamphoacetate.
Polyquats
Polyquats are cationic copolymers that can assist with slip, lubricity and combability. They have strong antistatic properties, which are ideal for damaged hair. These can help to impart a smoothing and conditioning effect on hair with minimal build-up.
Certain polyquats can adhere readily to hair proteins to help build product viscosity, increase hair suppleness and improve texture. Examples include polyquaternium-10 and polyquaternium-73.
Preservatives
Preservatives are essential in any formulation to help ensure the prevention yeast, mold and bacteria growth. These microorganisms will grow in the presence of water and the introduction of external factors such as oxygen, light and heat.
Related: Andean Otoba Wax Delivers Stable Nanoparticles, Anti-hair Loss Potential
Since conditioners are often found in the bathroom shower, the formulation will be exposed to these external factors that may cause a product to grow microorganisms. To help prevent this, ideal preservatives for conditioners include methylchloroisothiazolinone, methylisothiazolinone, sodium benzoate and sodium salicylate.
Cosmetic Actives
There are few cosmetic actives that clam to help fight hair loss and help enhance the efficacy of the formulation. Select examples include:
Procapil by Sederma (INCI: Butylene Glycol (and) Water (Aqua) (and) PPG-26-Buteth-26 (and) PEG-40 Hydrogenated Castor Oil (and) Apigenin (and) Oleanolic Acid (and) Biotinoyl Tripeptide-1), designed to target the main causes of alopecia, poor scalp micro-circulation, follicle aging and follicle atrophy caused by dihydrotestosterone;3


Actiphyte of Psoralea by Active Organics (INCI: Psoralea Corylifolia Fruit Extract), used in hair and scalp products particularly to promote the regrowth of hair loss due to alopecia;4 and


It is important to note that these are claims made by the supplier of each ingredient. Individual proper testing of the ingredient in the formulation should be conducted to ensure the efficacy of the ingredient and formulation.
Conclusion
In closing, FPHL is a concern for women typically as they grow older; however, hair loss is not limited to mid-life and older women, it can impact women of all ages. Having a curated hair care routine is an important factor to help prevent hair loss.
Formulating a conditioner that not only hydrates the hair, but also precludes additional breakage and increases combability is imperative to hinder hair loss. Selecting each ingredient, from the emulsifier to the preservative, carefully, is important to overall product efficacy and how it is received by consumers.
Previously: Sabinsa Serum Clinically Proven to Prevent Hair Loss
References
1. https://www.aad.org/public/diseases/hair-loss/types/female-pattern
2. https://www.aad.org/public/diseases/hair-loss/treatment/tips
3. https://www.ulprospector.com/en/na/PersonalCare/Detail/1240/44314/Procapil?st=1
4. https://www.ulprospector.com/en/na/PersonalCare/Detail/802/32616/Actiphyte-of-Psoralea?st=1&sl=99210988&crit=a2V5d29yZDpbYWxvcGVjaWFd&ss=2&k=alopecia&t=alopecia
5. https://www.ulprospector.com/en/na/PersonalCare/Detail/604/213569/Sage-Extract-Ursolic-Acids-75?st=1&sl=99210988&crit=a2V5d29yZDpbYWxvcGVjaWFd&ss=2&k=alopecia&t=alopecia