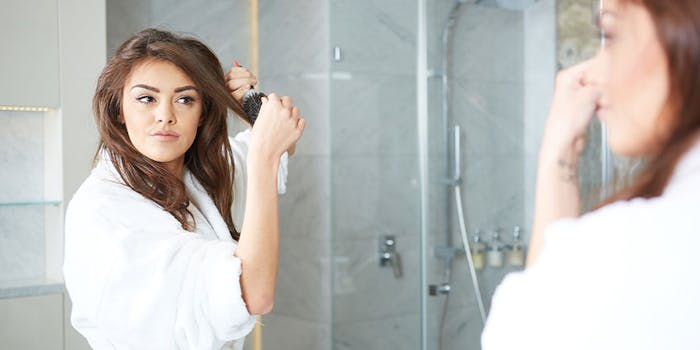 Consumers around the world are paying more attention to their hair; however, many hairstyling techniques can cause damage. Enter: hair repair formulation strategies to protect and nourish the hair and scalp.
In this month's Supplier Forum, industry experts weighed in on emerging techniques to create formulations to address heat damage; the effects of pollution; the pitfalls of hair colorants; and more. Following are their responses.
Michael Franzke, Ph.D., Principal Scientist;
Dave Popplewell, Global Marketing Manager, Hair Care;
Penny Antonopoulos, Global Director of Marketing, Hair Care—Ashland
Hair damage comes from many sources, including chemical and mechanical treatments or from daily exposure to pollutants in our urban environments. Current hair repair solutions either focus on external or internal repair, but to truly offer a long-lasting, consumer-perceivable effect, both needs must be addressed.
Ashland provides solutions to this challenge through a synergistic combination of two  technologies that work to deliver a high degree of repair to the inner hair fiber and the external hair cuticle:
N-DurHance AA-2000 conditioning polymer (INCI: Acrylamidopropyltrimonium Chloride/Acrylamide Copolymer) is a highly charged cationic copolymer. It helps to restore hair to its natural hydrophobic state and provides long lasting damage repair via a in situ-controlled flocculation (ISCF). The ingredient has shown multiple benefits, including providing protection against the harmful effects of urban stress caused by pollution and dust; protection against protein damage; and long-lasting conditioning through multiple washes. Formulators can deliver these benefits through a variety of hair care products such as shampoos, conditioners, masks and leave on systems to help restore, repair and rejuvenate hair.


FiberHance bm solution (INCI: Hydroxypropyl Gluconamide (and) Hydroxypropyl Ammonium Gluconate) is a short-chain molecule designed to penetrate the hair fiber and strengthen the internal structure of the hair. Based on a glucose-derived chemistry, this solution creates new bridging through electrostatic and hydrogen bonds inside hair fibers. Ideal for shampoo systems, it helps to strengthen with each wash and gives back natural manageability. It also can be incorporated into color treatment systems to strengthen all hair types, Caucasian, Asian and African American, during and after coloring.
The combination of these two systems in rinse-off and leave-on systems can help consumers repair and restore hair to a healthier state.
Hannah Critchley, Marketing Manager - Beauty Effects;
Farahdia Edouard, Research & Technology Manager - Personal Care—Croda
As individuals, the hair care routines we adopt can be heavily influenced by our heritage, culture and hair type, with fashion and trends also making their mark. It is no secret that individual habits can impart damage on the hair fiber, and this can manifest in a number of ways. Everything from merely combing and blow-drying to harsher styling methods—such as coloring, bleaching or relaxing—can cause hair to become brittle, dry and difficult to manage.
Biomimetics takes inspiration from nature, its models, systems and processes in order to solve human problems. Treating "like-with-like" has been a common strategy for reparative/restorative hair care treatments for many years. Croda has utilized advancements in proteomics to gain a deeper understanding of how different types of proteins are lost from specific hair types following different treatment processes.
For instance, recent proteomic analysis has shown that a greater number of proteins is leached from African hair than from European hair during lye-based relaxer treatments. In addition to the quantity leached, the types of proteins were also distinct depending on the hair type treated. This has allowed Croda to take biomimetics to the next level by recommending tailored ingredients for the creation of individualized hair-replenishing products.
One such ingredient is ProSina (INCI: Water (aqua) (and) Hydrolyzed Keratin), a hydrolyzed keratin that is manufactured using a proprietary process that retains intact forms of intermediate filament proteins, which are critical to providing strength to human hair. In addition to a high cystine content, ProSina contains peptides that match the keratin proteins leached from relaxed African hair. With its proven strengthening benefits, ProSina is an effective treatment solution for consumers with relaxed hair, and those wishing to transition from relaxed to natural by replenishing the lost proteins from the relaxed hair, making it healthier and less prone to breakage while the new hair grows out.
Beth Johnson, Associate Industry Scientist, Home and Personal Care—The Dow Chemical Company
Consumers are becoming increasingly aware of multiple factors that contribute to damaged hair, including those that are self-imposed. These include heat styling, bleaching and coloring; repeated washing and combing; and environmental stressors such as air pollution and UV rays. Combined, these aggressors create unruly, damaged hair that amounts to frustration and a quest for products that help repair and protect hair from further damage.  
A key issue, however, is that today, many hair products target only the damaged sites on the hair cuticle, leaving it open to further damage.
So what is the solution? For one, Dowsil brand silicones, which condition and protect the entire shaft by forming a homogeneous film. This mimics the hydrophobic lipid layer on the cuticle of undamaged virgin hair, restoring hair's hydrophobic state.
Hydrophobicity is what matters. It improves the hair's feel and reduces combing forces, providing long-lasting conditioning and less breakage. Forming said film, these silicones protect hair longer than other ingredients, giving consumers the repair and protection they seek. Just as importantly, the silicones do not create buildup on the hair when used with a clarifying shampoo.
As part of a new study, Dow has developed an approach to test the effectiveness of different silicone technologies and determine which are most successful at restoring the hair. The tests included a water absorption test, hair sink test and water contact angle measurement on hair tresses, to assess homogenous coverage, benefits through multiple washes and the potential to protect against hair damage. All results showed significant benefits, particularly with Dowsil CE-7081 Smart Style (INCI: Silicone Quaternium-16/Glycidoxy Dimethicone Crosspolymer (and) Undeceth-11 (and) Undeceth-5).
This Dow technology delivers restoration and protection to the complete surface of the fiber, enabling healthy-looking hair with signs of hair damage erased for extended periods.
Anne Mu, Applied Technology Manager, Care Solutions—Evonik
Hair damage repair and a healthy scalp are top benefits consumers seek from hair care products; they also often seek natural-inspired solutions in order to nourish and protect hair and scalp.
Ceramides are a common structural element of hair (~7% of the cell membrane complex, or CMC) and skin (~47% of stratum corneum, or SC).  As a result, it is unsurprising that supplementation of the CMC and scalp barrier with ceramides can lead to positive benefits, such as the reduction of hair breakage, hair swelling and irritated scalp skin.
As a leader in ceramide technology, Evonik has developed a synergistic blend of ceramides and oils to achieve this purpose: Hairflux (INCI: Olea Europaea (Olive) Fruit Oil (and) Ricinus Communis (Castor) Seed Oil (and) Ceramide NG). The benefits of this composition have been studied in both the scalp and hair.
For the scalp, in vitro studies using keratinocyte skin models (EpiCS) demonstrated significant reductions in IL-1 markers. In an in vivo study of 40 panelists suffering from dry, itchy scalp, the subjects reported experiencing significant improvements.
For hair, tresses were used to investigate the impact of this blend and found a strong positive protective effect against hair fatigue from acidic straightening and hair breakage due to hot drying and combing. Studies also found a strong repair effect on hair damaged by bleaching. These results underscore the relevance of appropriately designed ceramide blends to achieve nourished and protected hair through a natural, endogenous ingredient solution.
Danielle Prima, Global Marketing Specialist—Lubrizol
Dry, dull, brittle—for decades, when consumers thought about making their curly hair more manageable, they worried about damaging it and embodying those three words. It also conjured images of long hours in a salon chair. But the next evolution of salon-at-home care has arrived, making it simple to get smooth, manageable hair.
Lubrizol recently introduced Fixate Renew (INCI: Not Provided). It is a nonformaldehyde, glyoxylic acid-free, thermally activated technology that elongates curls and controls frizz for up to 10 washes. It makes blow-drying, flat ironing and styling at home easier and quicker.
The technology reconstructs hair from the inside, making it smooth and healthy for up to 10 washes. Tested on models with hair types from 1 to 8, representing straight to extra curly hair, after one treatment, each model's hair appeared healthier, stronger and smoother.
The product is applied evenly to hair. After application, the hair processes without heat for 30 min before being blow-dried completely and flat ironed in thin, half-inch sections for six to 10 passes. The flat iron temperature should be set between 390°F and 430°F. Once flat ironing is complete, consumers can wash their hair or wait. There is no need to wait 24 hr before washing as formaldehyde-based options require.
The ingredient is also safe for color-treated hair, and repeated use of the product results in stronger hair. In addition, a novel penetration encapsulation technology (NPET) enables the active ingredients to enter the cortex for optimal results.
Cosmetic practices such as combing, brushing, straightening, perming, dyeing, etc.—as well as environmental factors including exposure to UV light and pollution—can lead to hair damage. The F-layer, the outermost protective layer of the hair, becomes particularly deteriorated. The cuticle becomes raised and porous, which exposes the cortex to further damage; the consequence is a decrease in hair shine, color, elasticity and strength. 
Tara is a small leguminous tree with pod fruits, native to the Peruvian Andes. Tara pods, which are used in traditional medicine to treat infections and improve healing, are rich in hydrolyzable tannins, with gallic acid as the main constituent. Tara tannins are known as efficient antioxidants.
For protection of the hair against daily weathering, a hair care ingredient was developed based on Tara tannins and an extract of organic sunflower sprouts: KeraGuard (INCI: Caesalpinia Spinosa Fruit Extract (and) Helianthus Annuus Sprout Extract (and) Sodium Benzoate and Phenoxyethanol (and) Water (aqua)). This combination creates an antioxidative solution that is well-suited for hair, as tannins naturally bind to hair keratin.
The antioxidant power of this hair care ingredient, which was measured using electron spin resonance spectroscopy, is severalfold higher than classical natural antioxidants such as green tea or resveratrol. The same technique also was used to demonstrate the efficacy of this ingredient to protect hair against UV irradiation-induced free radical formation, and to demonstrate a repair effect on bleached hair.
Further experiments on dyed hair tresses showed the prevention of color fading after washing and UV exposure. Scanning electron microscopy also showed the ingredient could protect the hair cuticle against heat damage.   
Future Forums
To participate in a future Supplier Forum, contact Cosmetics & Toiletries assistant editor Brooke Schleehauf at bschleeh­­­­­­auf@​allured.​com. Upcoming topics will cover:
Making Naturals Functional (July)
Approaches to Wellness Beauty (August)