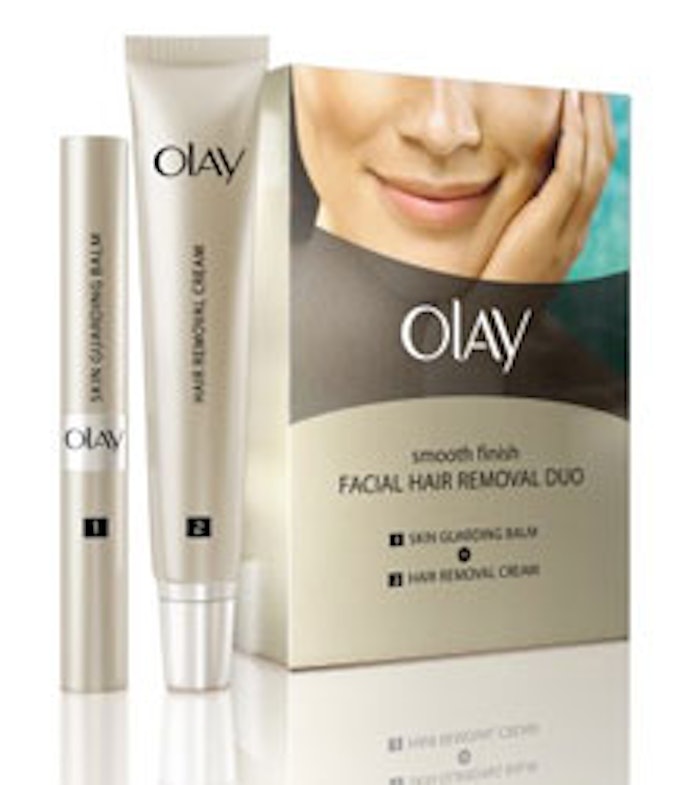 This two-step process for hair removal is a common process that also is used with hair relaxers. The idea is to protect skin from the effects of the high pH ingredients that remove facial hair. Hair removal from the surface of the skin (depilation) can be accomplished in a number of ways; however, the most common way uses a high pH ingredient to destroy the amino acid bonds in the hair and dissolve the amino acid.
The process of hair depilation can be irritating to the skin. This product addresses that irritation by applying a protective product on the skin before applying the depilatory.
The Skin Guarding Balm is an anhydrous stick that contains a combination of waxes (ozokerite and beeswax), sucrose polycottonseedate (olestra) and Brassica campestris/Aleurites fordi oil copolymer, a natural derived polymer that has a strong adhesion to the skin. It also contains an antioxidant blend, which is incorporated to protect the natural oils and waxes. Ethylene brassylate is formulated into the product, most likely to mask odor.
The Hair Removal Cream uses a thioglycolate system for hair removal. The thioglycolate system is a reaction product between thioglycolic acid and calcium hydroxide, which results in calcium thioglycolate hydroxide. The sodium hydroxide is the primary pH adjuster, and this cream probably has a high pH (> 12), so the depilation will work quickly (reducing contact time with the skin).
The emulsifier system in the cream is a combination of cetearyl alcohol and ceteareth-20. This combination was introduced to the cosmetic industry about 40 years ago and is a common emulsifying system used in high pH formulations. It actually causes the emulsion to break quickly, thereby releasing the high pH actives for depilation. As it is an ether, ceteareth-20 is stable in a wide range of pHs. The cream also contains aloe and chamomile to calm the skin and a fragrance to mask the sulfur odor (rotten eggs) that traditionally comes from using thioglycolate depilatories.