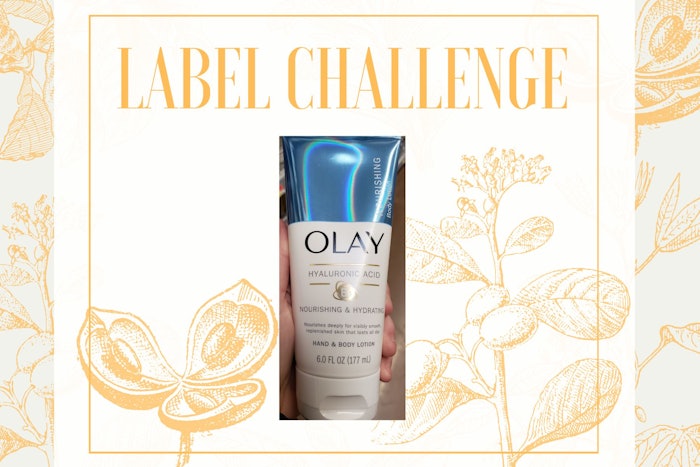 Test your formulating knowledge with our weekly Label Challenge! 
Each Monday, we post a product ingredient disclosure to our social media pages (LinkedIn, Facebook and Instagram) and you guess the product/product type in the comments. Answers are published here and shared through our Friday newsletters—and include a shoutout to the winners.
See related: Label Challenge Answer; Hustle & Co. Conditioning Wash with No Lather
Answer: Olay Hyaluronic Acid Hand and Body Lotion
This moisturizing lotion is crafted with hyaluronic acid and vitamin B3 complex to deeply hydrate the skin from head to toe for long-lasting, smooth skin. 
Ingredients: Water (Aqua), Glycerin, Niacinamide*, Petrolatum, Isopropyl Isostearate, Caprylic/Capric Triglycercide, Panthenol, Tocopheryl Acetate**, Sodium Hyaluronate, Tapioca Starch, Dimethicone, Stearyl Alcohol, Phenoxyethanol, Cetyl Alcohol, Sodium Acrylates Copolymer, Benzyl Alcohol, Behenyl Alcohol, Fragrance, Dimethiconol, Peg-100 Stearate, Cetearyl Glucoside, Cetearyl Alcohol, Disodium Edta, Ethylhexylglycerin, Stearic Acid, Palmatic Acid, Polymethylsilsesquioxane, Sodium Hydroxide, *Vitamin B3, **Vitamin E
Winners
Congratulations to Marco Mora, who guessed the correct product type and brand first on LinkedIn; and thinhtran_0212, who guessed the correct product type and brand on Instagram.
Be sure to comment and get those guesses in on Monday! Thank you to everyone who participated.