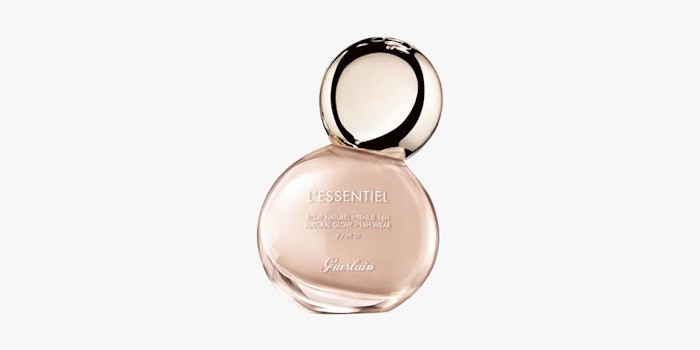 There are many definitions of the term natural, but the consensus seems to be it is something that has been directly obtained from nature; i.e., a plant or mineral. Each time this natural material is processed, it becomes more synthetic—so the fewer processing steps, the more natural something is, and vice versa ... everything can be traced back to nature, so in fact, every material is naturally derived to some extent.
There are many different certifying bodies that measure whether a material conforms to its definition of natural but the most popular certification usually varies from country to country. For the sake of the present article, I will be reviewing a natural product that follows the global natural ISO 16128 standard.
Guerlain's L'Essential Natural Glow Foundation claims to contain 97% naturally derived ingredients (according to ISO 16128 standards). Additionally, Guerlain touts that the foundation offers a glowing finish on the skin that lasts for 16 hours. The coverage is light to medium but is buildable if higher coverage is desired. Other claims include skin hydration, anti-pollution protection and a reduction in the appearance of imperfections.
The brand recommends, when applying this product, to first pat the face with a clean makeup brush to "awaken" the skin. Then, after a layer of primer, users apply the L'Essential Natural Glow Foundation by depositing it directly on a makeup brush—one drop for light coverage, or two to three drops for medium coverage. Next, dab the foundation onto the face at five points: forehead, nose, chin, and left and right cheeks. The product should then be patted and blended from the center of the face outward until the result is even.
Examining the product's ingredient list, I have highlighted raw materials that I believe are contributing to the performance claims:
Ingredients: Water (aqua), C9-12 Alkane, Glycerin, Propanediol, Polyglyceryl-6 Polyricinoleate, Silica, Titanium Dioxide [Nano], C15-19 Alkane, VP/Eicosene Copolymer, Dicaprylyl Carbonate, Polyglyceryl-2 Isostearate, Coco-Caprylate/Caprate, Disteardimonium Hectorite, Sorbitan Sesquiisostearate, Parfum, Caesalpinia Spinosa Fruit Extract, Alpha-Glucan Oligosaccharide, Sodium Myristoyl Glutamate, Stearic Acid, Sodium Citrate, Xanthan Gum, Alumina, Polyhydroxystearic Acid, Cellulose, Potassium Sorbate, Kappaphycus Alvarezii Extract, Polymnia Sonchifolia Root Juice, Citric Acid, Butylene Glycol, Aluminum Hydroxide, Maltodextrin, Lactobacillus, Tocopherol, Theobroma Cacao (Cocoa) Seed Extract, [+/- CI 77491, CI 77492, CI 77499 (Iron Oxides), CI 77891 (Titanium Dioxide), CI 77947 (Zinc Oxide)].
Editor's note: While the "Read the Label" series provides an overview of the ingredients cosmetic manufacturers use and their related claims, without use levels or access to clinical studies, the author is drawing conclusions based on speculation—albeit from training, formulating experience and, in some instances, evidence in the literature. The following is offered for your consideration and further verification.
C9-12 Alkane (and) Coco-Caprylate/Caprate
This is a natural solvent that also goes by the European INCI name of Coconut Alkanes (and) Coco-Caprylate/Caprate. As the EU INCI name suggests, it comes from coconut oil and is a clear, colorless and odorless solvent. It dries quickly and is a good natural replacement to cyclomethicones D4, D5 and D6.
'It was easy to apply, it spread nicely over the face and it blended well into the hairline and neck.'
Glycerin
This is one of those ingredients that most brands use. Whether you're mass market or prestige, it's a cost-effective material but it works well. When I formulated skin care, I would always add a bit of glycerin—typically 5% but it depends how you want the product to feel on the skin, as adding too much can make your formula feel tacky and sticky.
Glycerin is the third material in the ingredient, list which gives me confidence that the main claim of skin hydration is coming from this material. Glycerin not only works well for hydration, I also have found it helpful as a formulation aid—when mixing xanthan gum into a formula, I would often premix this with glycerin to form a smooth paste and then add it to the water phase to stop agglomeration and lumps from forming.
In this foundation example, and if the pigments are hydrophilic, they could be mixed into glycerin and then added to the formula to, again, prevent any lumps from forming when mixing. To ensure an even distribution of pigments throughout this foundation, homogenization must be carried out, ideally through a triple roller mill.
Propanediol
Usually derived from corn, this is a natural, colorless solvent. Propanediol is a humectant that draws moisture into the skin. Propanediol also has preservation-boosting properties, which means in some cases you can lower the percentage of preservative used in products and still achieve safe challenge test results. As most preservatives are synthetic, adding a natural preservative booster like propanediol and lowering your level of preservative is a way the formulator can increase the natural content within a formula according to the ISO 16128 standard rules.
Polyglyceryl-6 Polyricinoleate (and) Polyglyceryl-2 Isostearate (and) Disteardimonium Hectorite
This is an emulsifier I have used before in the lab. It is a w/o emulsifier that's designed for use in formulas that contain little or no silicone. What I liked about this emulsifier was that you could get lots of different textures from it—anything from a thin, stable emulsion with excellent suspension like this foundation, to rich creams and lotions—just by increasing the concentration. Using it in cold process formulations may save on production costs and, in turn, lessen environmental impact.
'Glycerin not only works well for hydration, I also have found it helpful as a formulation aid.'
Titanium Dioxide [Nano]
This is the main inorganic SPF filter used in this product. It's a nano grade, to avoid a whitening effect on the skin. Many natural certifying bodies will not allow the use of nano materials, so it's interesting to see that this is okay per ISO 16128 standards. The material does come from naturally derived sources but it is synthetically treated to remove impurities.
The other inorganic pigments used within the formula will contribute slightly, to give a higher SPF rating. An important thing to note here is that on the ingredients list, titanium dioxide is listed twice—once as an SPF ingredient (titanium dioxide [nano]) and once as a colorant (CI 77891). This is because two different grades are being used. One has a small particle size, i.e., the nano grade; and the other is used to provide color in the foundation and has a larger particle size. For decorative cosmetic products marketed in several color shades, all colorants used in the range (other than those intended to color the hair) may be listed according to their color index (CI) number.
VP/Eicosene Copolymer
This water-resistant film former I strongly believe is contributing to the 16-hour claim on this foundation. It's oil soluble and is commonly used in color cosmetics and sunscreens to improve wear and to reduce transfer resistance. This material can help with pigment dispersion and is known to boost SPF when combined with organic filters.
Parfum
It's interesting to me that this foundation contains fragrance but I expect nothing less from the Guerlain fragrance house. I have used a mascara from Guerlain before (Cils d'Enfer So Volume) that had a rose scent, which was an unusual but pleasant surprise. On Guerlain's website, it states this foundation contains a musky wood fragrance with a white almond top note. The middle note contains white tea and the base note is sandalwood.
While the product is still wet, it does smell like any other foundation I've used; i.e., that typical iron oxide smell. Once the product dries, though, the fragrance is much more noticeable although not overpowering. It is slightly powdery and the subtle musk aroma makes my face feel clean.
'Propanediol also has preservation-boosting properties, which means in some cases you can lower the percentage of preservative used in products.'
Caesalpinia Spinosa Fruit Extract
Also known as tara gum, Caesalpinia spinosa is a natural gelling agent that forms a film on the skin to give an antipollution benefits. It comes from the Caesalpina spinosa tree and provides a rich rheology profile to gels and creams. It is water soluble and usually comes in the form of a powder.
In-use Testing
Personally speaking, I have always enjoyed using a high coverage foundation—my skin can be unpredictable and goes through phases of being clear and radiant, to the polar opposite with mass breakouts and a dull complexion. I guess this is why I stick to high coverage; just in case I need something covered.
Foundation to some can be a security blanket and a confidence boost, especially sufferers of problematic skin. Therefore, I think it's important to choose the correct one. I have used the same two brands of foundation for the past ten years and I find, from speaking with friends and family, that this is where brand dedication remains loyal from consumers—which is rare in this moment, where trying out new niche brands is so desirable.
This Guerlain foundation is not high coverage but I did really like it, and it did still give a good medium coverage. I could see some freckles through it but any spots appear reduced (I must admit I'm going through a stage where my skin is okay; a few breakouts but nothing major). It was easy to apply, it spread nicely over the face and it blended well into the hairline and neck. My skin looked radiant but not shiny and when I touched my face, it felt moisturized and plump but not wet. The film-formers used are a good choice as this foundation was still perfectly on my face 16 hours later.
I find that my usual high coverage foundation can look a little "caked-on" when my skin is clear, which is why I will buy this Guerlain L'Essential Natural Glow Foundation again. It's £44 for 30 mL, which is the higher end of what I would pay for foundation, usually. But I plan to switch use between my high and now this medium coverage foundation, depending on how my skin is that day. So yes, it costs a bit more but I should get longer use out of it.
Source: Guerlain website
Disclaimer: This article was produced in London, and therefore the INCI listing and INCI names comply with European labeling requirements.