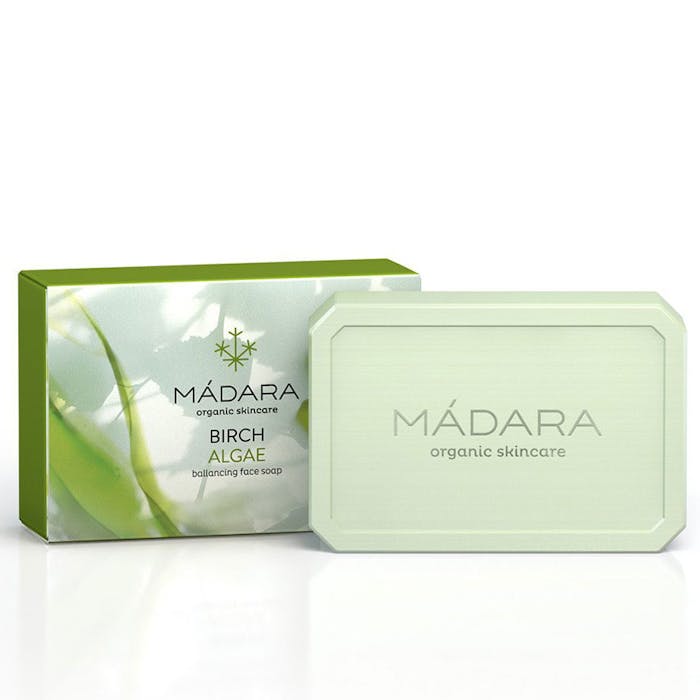 The Birch Algae Balancing Face Soap from Mádara Organic Skincare purports a new approach to facial skin care. This "energizing" soap is designed to thoroughly clean the skin with a botanical base, but also provide hydration via a blend of wheat germ oil and plant sugars. Formulated with Nordic birch extract and algae, the soap is said to provide balance while gently washing away impurities.
Directions indicate it can be used morning and evening by massaging it into wet skin and rinsing it off with warm water. The company recommends the use of Mádara toner and moisturizer after cleansing.
This column will review the ingredient listing for claims substantiation and functionality.
Surfactants
The surfactants in the soap formula are sodium palmate and sodium cocoate. Sodium palmate is a sodium salt of fatty acids derived from palm oil. It functions as a surfactant, emulsifier and viscosity controlling agent.
Sodium cocoate is the sodium salt of fatty acids from coconut oil with lauric acid as its primary component. It is also a surfactant and emulsifier.
Humectants
The formula also contains water, a solvent, and glycerin, a humectant. Betaine is another humectant and anti-irritation agent, and hydrolyzed wheat protein has hydrating properties.
Pigments, Antioxidants and More
The pigments used are mica-based, highly brittle silicate minerals with diverse chemical compositions. These give the soap sparkle and shine. Titanium dioxide and iron oxide green are inorganic mineral compounds and also used as a colorants and opacifying agents. Tocopherol acts as an antioxidant.
The soap contains perfume, while sodium citrate serves as a buffer. Linalool and Limonene are a part of the fragrance and potential irritants. Sodium benzoate functions as a preservative.
Actives
The main active ingredients are birch leaf extract and algae. Birch leaf extract has been shown to have antimicrobial and antioxidant properties. In other tissues, it also acts on the inflammatory process.
Marine algae is rich in a number of metabolites including polysaccharides and polyphenols, and has an ability to ameliorate oxidative processes in skin damage, to optimize physiological processes and maintain skin health. 
Conclusions
In my view, the ingredients in the soap formula support the claim for balancing, gentle cleansing and optimizing skin moisturization. However, an issue of wheat protein allergy has been raised recently, so more research is required.
As for the claim of "energizing," it simply appears to relate to the refreshing feeling of clean.
Ingredients: Sodium Palmate, Sodium Cocoate, Water (aqua), Glycerin, Aroma, Sodium Citrate, Betula Alba (Birch) Leaf Extract, Algae, Mica, Titanium Dioxide (CI 77891), Tocopherol, Betaine, Iron Oxide Green CI77288, Hydrolyzed Wheat Protein, Linalool, Limonene, Sodium Benzoate
Source: https://www.madaracosmetics.com/en/birch-algae-balancing-face-soap