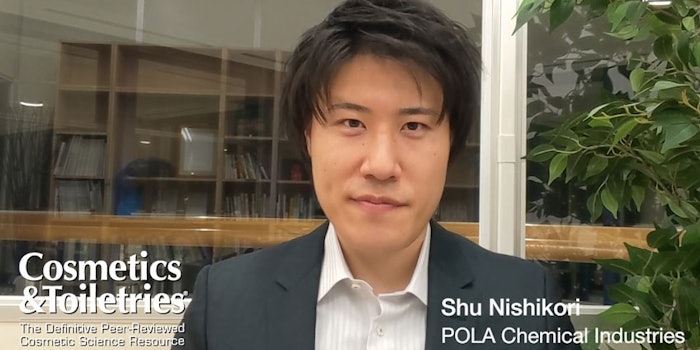 In addition to the brain and muscles, skin can benefit from physical exercise, according to research from POLA Chemical Industries. Shu Nishikori presented these findings in a poster featured during the 2020 IFSCC and explains them in this cosmetics R&D vlog entry; watch below. 
As Nishikori previously reported, muscle has been found to affect skin conditions such as hyperpigentation through myokines, i.e., hormone-like factors released from muscle into the bloodstream. Another study showed that aerobic exercise-induced interleukin 15 (IL-15) enhances the mitochondrial function in the skin. These observations suggest that exercise and/or muscle could have benefits for skin. 
In the present work, briefly, 56 subjects participated in a 16-week intervention of both aerobic exercise and resistance exercise (RE). Blood was taken from the subjects after exercise to assess inflammatory factors such as C-C motif chemokine ligand 28 (CCL28), C-X-C motif chemokine 4 (CXCL4) and dermal biglycan (BGN). RE, in particular, reduced CCL28 and CXCL4 and increased BGN. This, in turn, increased dermal thickness/volume.
As such, RE is proposed as an anti-aging strategy for skin. Watch the video for additional insights: