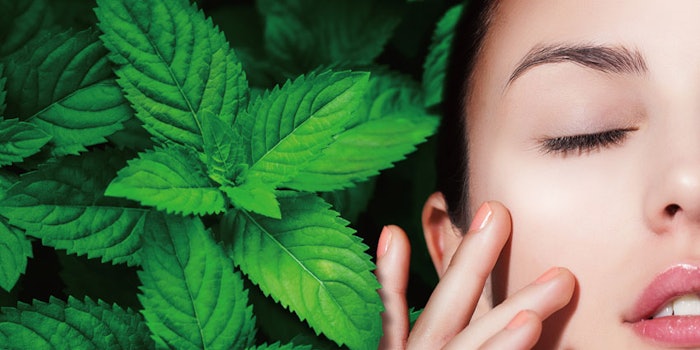 According to natural actives expert Ichimaru Pharcos, aging cells stimulated by extracellular adenosine triphosphate (ATP) secrete senescence-associated factors, creating an aging cascade in skin; but the company has a minty fresh solution to this.
SpringMint (INCI: Butylene Glycol (and) Water (aqua) (and) Mentha Piperita (Peppermint) Leaf Extract is the company's answer to work at the initial stages of skin aging. Research indicates extracellular ATP (eATP) is released from epidermal cells as the first signal of dermal thinning. However, the SpringMint product is capable of suppressing the production of eATP from early senescent epidermal cells. 
In vitro, 0.1% of the active ingredient was added to normal human adult epidermal keratinocytes, and the ATP amount in the cultured supernatant was measured after 24 hr. SpringMint inhibited eATP release by human adult epidermal keratinocytes.
Furthermore, normal human adult epidermal keratinocytes were cultured in fresh medium containing ATP and 0.1% SpringMint for 24 hr. Following, Senescence-Associated Secretory Phenotype (SASP)-related factors IL-1β, IL-6 and IL-8 in the cultured supernatant were quantitatively measured. Although the addition of eATP increased the amount of SASP-related factors secreted, the addition of 0.1% SpringMint suppressed this secretion.
In vivo, a 1% SpringMint and control lotion was applied to the right and left side, respectively, of the faces of 14 Japanese male and female test subjects, ages 30-60 years, twice daily for four weeks. Ultrasound images of the inside of skin and skin elasticity were measured before and after the test. Results indicated skin's elasticity was significantly increased in the areas where SpringMint was applied. Ultrasound images also showed that the thickness of their dermis increased.
According to the company, the product is 100% natural and based on organic peppermint. It is rich in two key active components, and is manufactured using 1, 3-butylene glycol obtained from sugarcane.
For more information, contact Ichimaru Pharcos.