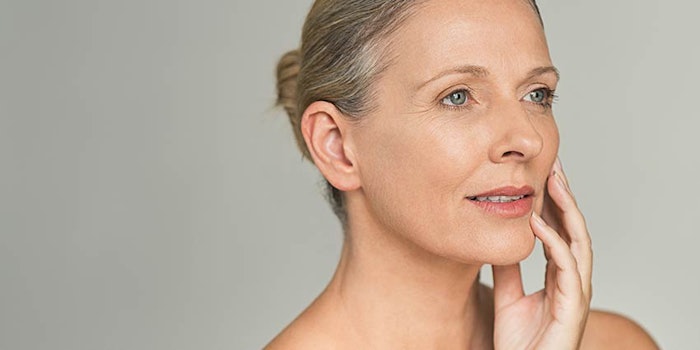 Lonza launched H2OBioEV, a bioactive functional for skin rejuvenation, at in-cosmetics Global 2019.
"H2OBioEV bioactive moisturizes by replenishing essential humectants, which provide an optimal environment for epidermal proteins to form and maintain a strong barrier, thus restoring a smooth and radiant appearance," said Vanessa Arruda, PhD, global market development manager, bioactives. "It is an evolution in moisturization, to refresh and revitalize skin."
The ingredient offers three biophysical and biochemical approaches to addressing dry skin: depositing an invisible film that locks moisture, replenishing essential humectants and providing a stabilizing environment for functional skin proteins, and stimulating the expression of proteins essential to forming and maintaining an optimal skin barrier function.
The product includes a combination of ingredients, including Aphanothece sacrum and Galactoarabinan polysaccharides. The former, rich in ampholytic macromolecular polysaccharide, is highly hydrophilic and absorbs more water than other polysaccharides; the later is known to reduce transepidermal water loss on the skin.
In ex vivo tests, the bioactive was shown to improve the skins' barrier structure, increase the skin's own moisturization capability and improve cell-cell cohesion.
H2OBioEv is ideal for face and body applications including moisturizers, lip balm, hand care and face masks.
The company also highlighted two recent flagship bioactives at the tradeshow: Xpress EV Bioactive and ScreenLight Block.
Xpress EV Bioactive (INCI: Linum Usitatissimum (Linseed) Seed Oil (and) Canola Oil (and) Morus nigra Leaf Extract (and) Pearl Extract (and) Tocopherol) is a skin care ingredient designed for areas where consumers seek firmer, fitter skin—primarily the face and neck, but also the hands. It aims to mitigate the effects of chronological aging, and targets consumers of all genders and ages.
ScreenLight Block (INCI: Physalis Alkekengi Calyx Extract (and) Caprylic/​Capric Triglyceride (and) Beta-Carotene) seeks to protect skin from the effects of blue light and environmental stressors, via skin care formulations including facial cream and aftershave lotion. In vivo clinical data found it reduced the appearance of dark spots; in ex vivo data, it helped prevent increased melanin production from exposure to visible light and pollution.
Lonza presented at stand L88 at in-cosmetics Global 2019, held April 2-4 in Paris.