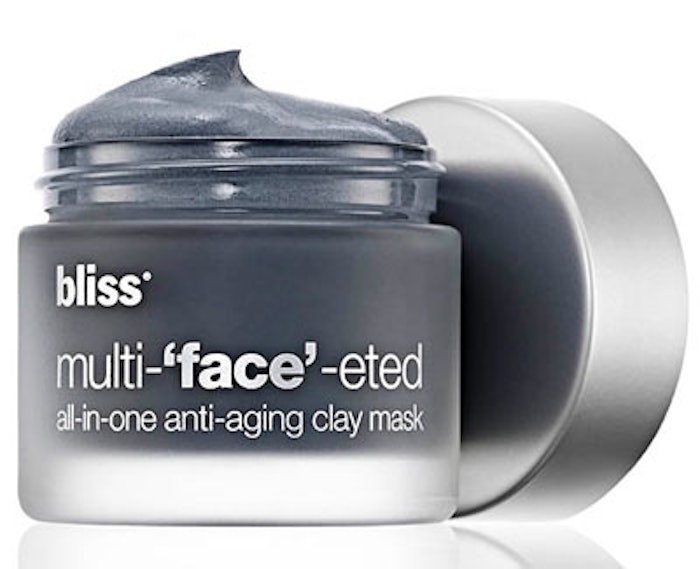 I am always skeptical when a brand claims to have "the only" product in its category, and Bliss' Multi-'Face'-eted All-in-One Anti-Aging Clay Mask does just that, claiming to be "the only flexible clay mask that helps correct all six visible signs of aging." The mask claims to be "spa-powered with smoothing quartz, glycolic acid, nourishing jojoba oil" with "detoxifying carbon to help smooth the appearance of lines, even skin tone and texture, soften, brighten and shrink the look of pores." This column will review the ingredient listing for functionality and claims substantiation.
This product is a o/w emulsion with bentonite and kaolin clays, the opacifying agent titanium dioxide, and exfoliants polyethylene and quartz (i.e. crystalline silica) suspended in the emulsion. The popular alpha hydroxy acid (AHA) glycolic acid  is featured predominantly on the ingredient listing at 10% followed by the humectant glycerin. Jojoba oil is the only emollient listed in the formula. The emulsifiers are glyceryl stearate, PEG- 100 stearate, glyceryl ricinoleate and glyceryl distearate, with xanthan gum as the stabilizing agent. The surfactant sodium laureth sulfate assists in rinsing off the mask.
The "bio-active" or cosmeceutical ingredients include soothing allantoin, licorice root extract, brightening kojic acid, detoxifying carbon, and menthone glyceryl acetal, a menthol derivative that provides a cooling and/or tingling effect without the irritation of menthol.
The preservative system consists of phenoxyethanol, potassium sorbate and imidazolidinyl urea, which is boosted by chelating agent disodium EDTA. Sodium hydroxide neutralizes the glycolic acid for a more "skin friendly" pH of the finished product.
The company reports that in a 4-week consumer study, the product reduced the look of pores, delivered a healthy glow, replenished skin, made skin radiant, improved skin tone and revitalized skin. In my opinion, the results are impressive for a product that is left on the skin for five to seven minutes and then rinsed off.