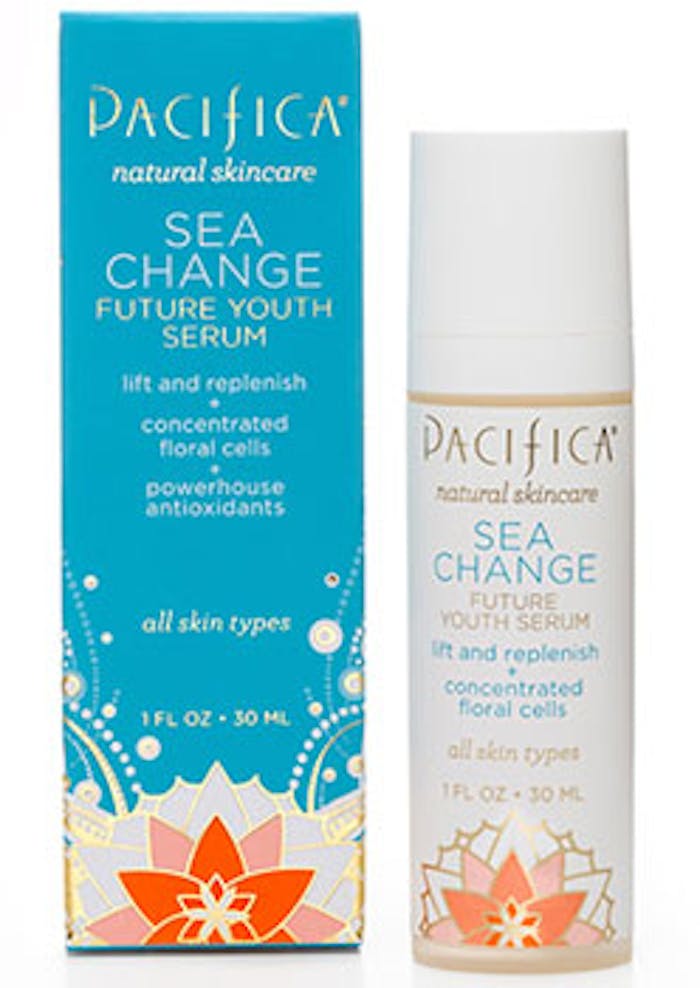 Does your anti-aging serum have "super powers?" Launched in May 2014, Pacifica Beauty's Sea Change Future Youth Serum is designed for both day and night use with "supernaturally effective ingredients for the best youthful, bright skin." It claims to change the appearance of skin by visibly firming, lifting, hydrating and brightening skin with potent native floral cells and marine extracts. This column will review the ingredient listing for functionality and claims substantiation.
The formula is a aqueous emulsion with water (aqua) and Aloe barbadensis (aloe vera) leaf juice as the diluent/carrier. Three peptides–palmitoyl pentapeptide-4, for anti-wrinkle benefits; acetyl hexapeptide-3, a cosmetic "Botox" like ingredient; and palmitoyl tripeptide-5 for promoting collagen production–are featured near the beginning of the list, indicating percentages for good efficacy.
Emulsifying wax, also known as cetearyl alcohol (and) polysorbate 60, is the primary emulsifier, but it is manufactured from raw material feedstocks of both vegetable (cetearyl alcohol) and petrochemical origin (the ethoxylated polysorbate 60). Xanthan gum is the thickening and stabilizing agent.
Additional "bio-active" or cosmeceutical ingredients include oat beta glucan for soothing, coconut water, kelp extract, sweet iris extract, damascus rose leaf cell extract, chicory root extract and oligosaccharides, which support the "native" floral and marine extracts claim. Phenoxyethanol and ethylhexylglycerin are the preservative system. The product is scented with geranium flower oil.