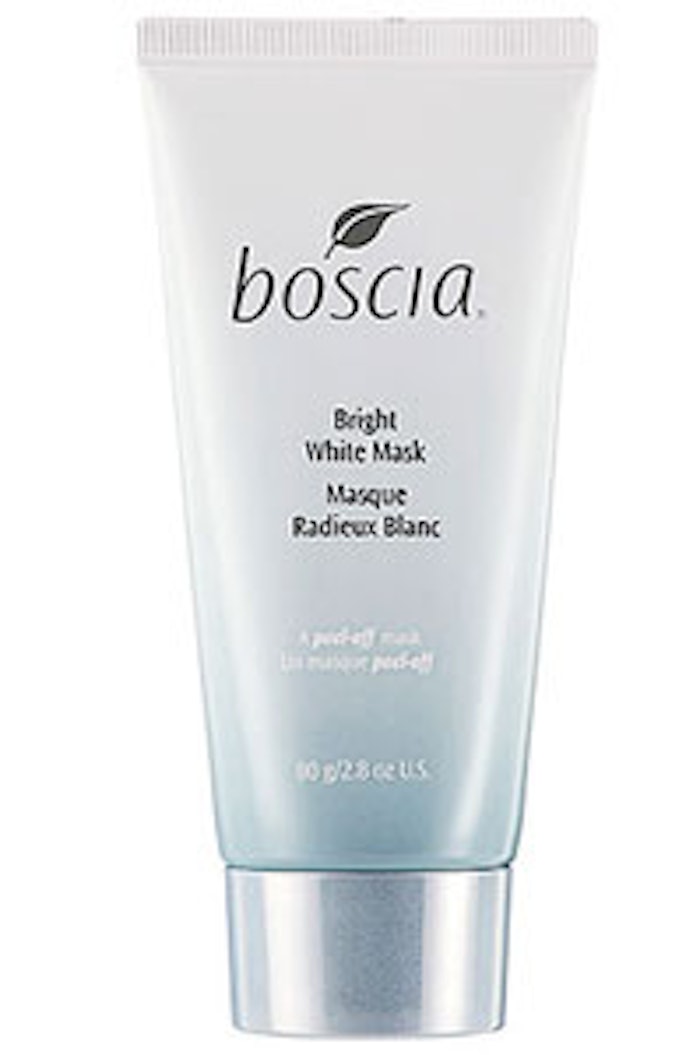 The proliferation of "whitening," "brightening," "clarifying," and "evening" cosmetic products continues with the launch of Boscia's Bright White Mask, a peel-off mask that "helps to visibly even skin tone and helps diminish the appearance of hyperpigmentation." This column will review the ingredient listing for functionality and claims substantiation.
It is surprising that this mask does not contain alcohol, as most peel off masks use alcohol to dissolve the polymer polyvinyl alcohol, even though it is technically water soluble. The humectants include PPG-20 methyl glucose ether, sorbitol and glycerin, which is included to "instantly moisturize and plump" skin. Both polysorbate 60 and polysorbate 20 are solubilizers. Any ingredient listed after the polysorbate 20 is probably in the formula at 1% or less.
Dictyopteris membranacea extract, or French sea fern, is a brown algae that stimulates the expression of the genes MITF, MART A and Myosin VA to inhibit melanogenesis, maturation and migration of melanosomes. This formula contains vitamin C in the form of sodium ascorbyl phosphate, which has substantial documentation on skin brightening and evening skin tone. Salicornia herbacea, or glass wort extract, reportedly has antioxidant and anti-tyrosinase activity and is associated with a hydrating claim in this product.
The peptide complex of palmitoyl oligopeptide and palmitoyl tetrapeptide-7a has clinical claims substantiation on its ability to reduce the appearance of fine lines and wrinkles. The additional bio-active or cosmeceutical ingredients are panthenol (pro-vitamin B5) and tropolone, a grape polyphenol oxidase inhibitor.
The thickening agents are a combination of xanthan gum, carbomer and acrylates copolymer. The bulking agents are titanium dioxide, bentonite and kaolin, and the titanium dioxide also gives the product its characteristic white color.
The preservative system is caprylyl glycol and 1,2-hexanediol.