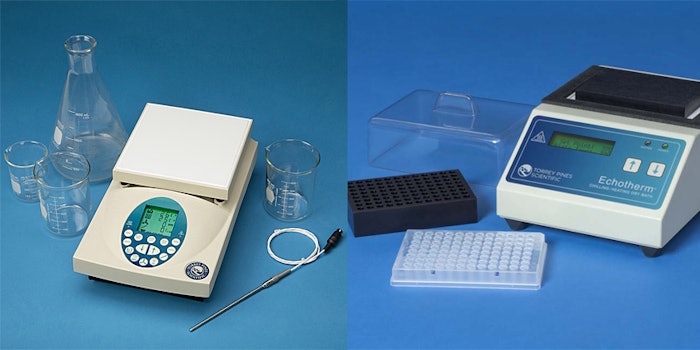 Torrey Pines Scientific, Inc., presented its EchoTherm programmable digital stirring hot plate for use in chemical, pharmaceutical, environmental, biochemical and other laboratories to provide reproducible, accurate chemical reaction control and sample preparation. Additionally, the company released its EchoTherm Model IC20XR compact Peltier driven, chilling/heating dry bath. It can freeze, chill or heat samples from -10°C to -110°C at a workstation.
Related: Torrey Pines Debuts EchoTherm CO50 HPLC Column Chiller/Heater
EchoTherm Model HS40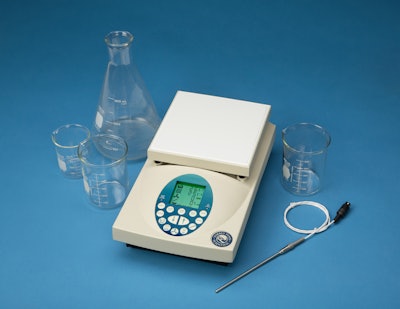 With the EchoTherm Model HS40, programming is performed through the front panel. The unit can store 10 programs in memory with as many as 10 steps each, where each step is a temperature, temperature ramp rate, stirring speed and time. Each program can be made to repeat itself automatically; from 1-98× or infinitely if wanted.
Heater plates are 8" (20.3 cm) by 8" (20.3 cm) white, solid ceramic glass for chemical resistance and quick heating. The plate surface can be heated from ambient to 450°C in less than 3 min. Plate surface temperature or solution temperature can be controlled directly to 1°C of the target and accuracy is 1% of the reading using platinum RTD circuitry. The units are supplied with temperature calibration certificates traceable to NIST. 
The stirring speed is 100-1500 rpm and is controlled by an optical coupler to 10 rpm, and the countdown timer with alarm and user-settable auto-off and RS232 I/O port are standard. Various sample probes are available as accessories. The model HS40 is available in 100, 115 and 230 VAC, 50/60 Hz models and all units are UL, CSA and CE certified. 
EchoTherm Model IC20XR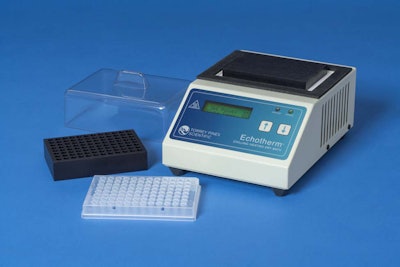 The EchoTherm Model IC20XR can be supplied with a variety of precision-made aluminum sample blocks. The model IC20XR can be used with assay plates of all types, centrifuge tubes of all sizes, vials, test tubes and most any other sample container. It is reported to be particularly well-suited to molecular biology labs for carrying out hybridizations, sample prep for PCR, ligations, enzyme reactions and more.
Previously: Compact HPLC Column Heater
The model has a digital display and control of temperature to 1°C. It is provided with a count-down timer in days, hours, minutes and seconds to 30 days; data logger; and RS232 I/O port to control the unit by computer or to record data. The compact unit measures 6.5" (165 mm) wide by 8.75" (222 mm) deep by 3.5" (89 mm) tall. 
It is supplied complete with a chiller/heater module and custom sample blocks can be made in three weeks. Finally, the model is UL, CSA and CE certified.