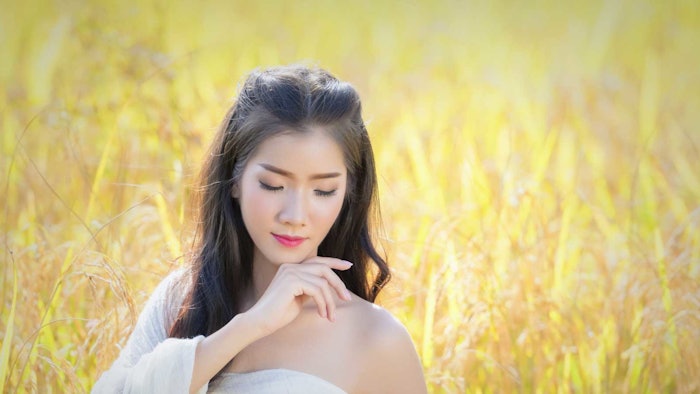 Adding to its Verdessence product family, BASF Care Creations introduces its Verdessence RiceTouch biopolymer (INCI: Oryza Sativa (Rice) Starch), a plant-based sensory powder with small particle size. It reportedly provides a light, smooth skin feel and reduces the greasiness of formulations.
Produced from non-GMO rice, Verdessence RiceTouch is said to provide high quality, excellent oil absorbency. Its compatibility in different formulations results in shine control and a mattifying effect. Stickiness reduction and spreading enhancement are additional benefits. Furthermore, this free-flowing, low-dust powder exhibits low microbial count.
Derived from natural 100% renewable feedstocks, the biopolymer is readily biodegradable and does not contain preservatives. No chemical modifications are needed during the production process.
"Sensory is an important attribute for consumers when it comes to the selection of cosmetic products," said Natalia Chudinova, Ph.D., marketing manager for market development of face/skin care at BASF. "With Verdessence RiceTouch, we use one of nature's offerings of bio-sourced alternatives to synthetic sensory modifiers. We are delighted to deliver an ingredient with high performance and excellent sensorial properties, while meeting the demand for sustainable cosmetic products at the same time."
According to the company, Verdessence RiceTouch is well-suited for various natural and organic cosmetics including face and body care, hair care and body cleansing, color cosmetics and sun care. The product can be used alone or in combination with other other biopolymers in the Verdessence range, allowing for the formulation of a broad range of leave-on applications; e.g., creams and lotions, AP/deos, foundations, eye shadows, dry shampoos and anhydrous products, amongst others.