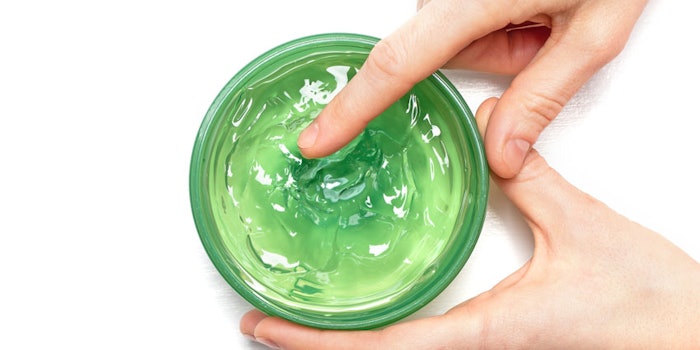 Green, biosourced, clear, pure, odorless, transparent, tasteless and odorless are the key claims to fame for four recent Aiglon Groupe ingredient offerings.
Fresh, 'Green' Feel
Veggie Gel (INCI: C15-19 Alkane (and) Hydrogenated Styrene/Isoprene Copolymer) is a crystal-clear, high gloss, nonaqueous gel with an original silky smooth and fresh texture on skin. Based on an Ecocert-approved oil that is renewable, biodegradable and non-GMO, the green ingredient is suitable for a number of applications including, sun, skin, glossers and other cosmetics; e.g., deodorants, skin care, etc.
Obtained via biosourcing, following tenets for reduced energy consumption, traceability, non-GMO and more, the lipophilic gel stabilizes w/o emulsions and ensures the homogenous dispersion of particles such as pigments and flakes. Compatible with natural and polar oils and esters, it can strengthen the viscosity of the oil phase in formulations. It is reportedly easy and uniform to apply, provides moisturizing effects and water-resistance, and can gradually release perfume. It also is readily biodegradable.
Pharma-grade Purity
The range of pure Codex-aligned petroleum jellies is non-comedogenic and offers protective, healing, moisturizing and soothing properties. Three examples from the range include: Aiglodex and Syntadex (INCIs: Paraffin (and) Cera Microcrystallina (and) Paraffinum liquidum); and Washable Petroleum Jelly (INCI: Cera Microcrystallina (and) Paraffinum liquidum (and) C12-13 Pareth-4). 
The jellies offer "absolute purity," according to the company, and are based on a microcrystalline texture. White and odorless, the jellies are suggested for face and body creams, hair removal creams, body lotions, lipstick, deodorant, makeup removers and APIs, where they impart benefits including protective, healing, moisturizing and soothing. The products are chemically neutral and completely stable; in addition, biodegradable versions are now offered.
Crystal Clear and Thick
Cosmetic grade Transgels (INCI: Paraffinum liquidum (and) Isoparaffin C18-C50 (and) Hydrogenated Polyisobutene (and) Hydrogenated Polydecene (and) Hydrogenated Ethylene/Propylene/Styrene Copolymer (and) Hydrogenated Styrene/Isoprene Copolymer (and) Caprylic/Capric Triglycerides), also available as mineral oil-free, impart thickening for no-aqueous, clear and glossy gels.
Offering excellent dispersion, these hydrophilic and lipophilic gels are crystal clear and stable over a wide range of temperatures. They are applicable in body, massage, shaving and aromatherapy oils, as well as lip care and gloss, lipstick, eye shadow, blush, foundation, cream and sun care.
Mineral Oil-free Petroleum Jelly
The AigloSyn line of Codex jellies (INCI: C18-50 Isoparaffin (and) Synthetic Wax (and) Cera Microcristilla) includes white, tasteless and odorless ingredients. Based on a microcrystalline texture, the blends of synthetic and pure bases can be tailored to customer requests.
The products are suggested for creams, lipsticks and oinments for emollient benefits, and to serve as excipients and/or APIs. The company has positioned the range as meeting a consumer demand for mineral oil-free products.
For more information, visit the Aiglon Groupe website.