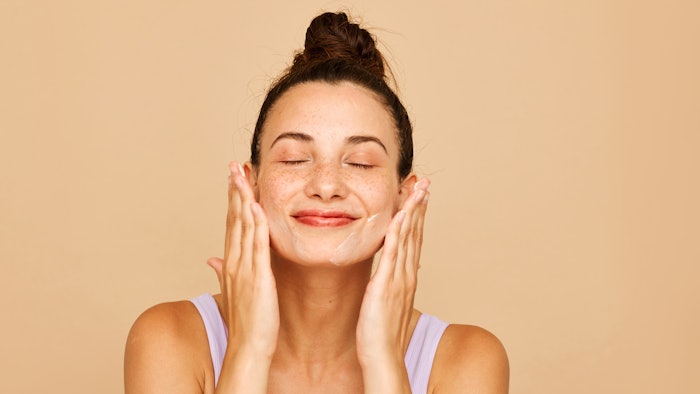 Growth in demand for sustainable ingredients in cosmetics and personal care products is well-known. At the same time, more consumers seek cleaner products with fewer ingredients. Sustainable ingredients that are multifunctional can therefore support the formulation of products that meet these needs.
Polyols, a class of compounds with more than one alcohol group in their molecular structure, are common ingredients in cosmetics and personal care products. Butylene glycol is among the most common polyols used due to its multifunctional advantages.
Still, the conventional production of this ingredient is environmentally unsustainable as it typically involves a petroleum-based manufacturing process that uses acetaldehyde, a carcinogen and mutagen, as the primary feedstock. But sustainable alternatives exist. One natural butylene glycola, for example, is produced using a sugar fermentation process and can reduce global greenhouse gases by an estimated 100,000 tons per year.1
The impact of such polyol solvents on rheology attributes, e.g., viscosity and elasticity, however, is less well-known and must be considered to ensure the desired product quality and stability are delivered. To explore these potential effects, the author's company partneredb to co-design a study measuring how various polyol solvents, including the natural butylene glycol, affected five different personal care formulations.
a Brontide (INCI: Butylene Glycol) is a product of Geno.
b Here2Grow Cosmetics and Homecare Labs
Study Design
The five formulations developed to evaluate and compare viscoelastic behaviors included: a conditioner, shampoo, facial cleanser, hand cream and body butter. A rheometer provided viscosity data by measuring flow properties over a range of shear rates for each formula.
The test products fell into one of two general physical categories: a single aqueous phase solution or an o/w emulsion. Aqueous solutions, including shampoos and facial cleansers, tend to be pourable liquids. In contrast, o/w emulsions such as conditioners, hand cream and body butter are typically thicker and more spreadable.
Four versions of each formulation were prepared, varying the natural solvent in each mixture between the natural butylene glycol, propanediol or glycerin, or no polyol (control). Each test formula was produced at two different polyol concentrations, 2% and 6%, and representative samples were subjected to rheological investigation under similar conditions and applicable usage situations.
Viscosity and Elasticity Dynamics
In essence, viscosity measures the thickness and density of a liquid substance. Viscosity dictates resistance to flow, with thicker liquids having a higher viscosity. Alternatively, elasticity requires a more complicated calculation; it describes a liquid's ability to maintain its structure independent of viscosity.
Higher-viscosity products tend to spread more easily and controllably, having a silkier texture and imparting a better skin feel. As such, viscosity is often considered an essential component of quality control. Similarly, elasticity can be critical if a liquid is handled, contained or required to stay in place. Varying the elasticity also offers a range of sensory experiences when the user spreads the product, including the tactile experience of the formulation "pushing back" on the user.
In evaluating how different solvents may affect the rheology of personal care formulas, it is helpful to consider that different formulation types have distinct relationships between viscosity and elasticity depending on the factors generating their elastic properties. In o/w emulsions, viscosity can occur when oil droplets are surrounded by emulsifying agents. Within the emulsion, microstructures repeat in a three-dimensional matrix that exhibits elastic properties.
Conversely, in single aqueous phase formulations, rheology modifiers generate most of the viscosity – although polyols can impact viscosity and elasticity to a degree. Components of single aqueous phase formulations form gel-like, single-phase continuous microstructures with a lower probability of displaying elastic properties. Therefore, while polyols would be expected to affect the viscosity and elasticity of o/w emulsions, they may affect viscosity but may not dramatically affect the elasticity of the single-phase aqueous solutions.
In practice, balanced viscoelasticity is ideal for spreadable o/w emulsions such as hand cream and body butter because they must be easily controlled by the user and offer a pleasant experience during spreading. In contrast, elastic properties are not especially crucial to single aqueous phase formulations that display a range of viscosities and do not have a fixed structure.
Methodology
With these considerations about viscosity and elasticity in mind, the five different formulations were evaluated using a rheometer to measure viscosity. Constant shear stress was applied in each experiment. To calculate each material's viscosity and elastic properties, the researchers used a creep recovery test, which involves measuring how a sample responds to two events: deformation by a specific force and relaxation after a defined period.
Elasticity testing and data interpretation: The creep recovery test was applied to measure the elasticity of the control (no polyol), 2% and 6% (w/w) polyol concentrations. During the initial deformation or creep phase of the test, depending on the characteristics of the sample, the resulting deformation may be instantaneous if the sample is purely elastic; linearly increasing if the sample is strictly viscous; or a mix of both if the sample is viscoelastic.
During the recovery phase of the test, when the sample is allowed to relax, elastic and viscoelastic samples will begin to revert to their original form, depending on the degree of elasticity. Only purely viscous materials will show no further change.
Viscosity testing and data interpretation: As noted, a rheometer was used to measure viscosity at 0% (control), 2% and 6% polyol concentrations; higher viscosity values (mPas) correlate with taller bars on the results graphs.
Results: Single-phase Aqueous Products
Shampoo: Both natural butylene glycol and propanediol provided a predictable and desirable increase in viscosity over the control and were more pronounced as their concentrations increased from 2% to 6%, with natural butylene glycol building to a higher viscosity than the other polyols (see Figure 1). Both the 2% and 6% glycerin were incompatible with this formulation – causing phase separation into the gel and water phases – therefore, measurements are not provided for these products. The control formulation had no detectable elasticity and none of the solvents introduced elasticity in a measurable way (data not shown).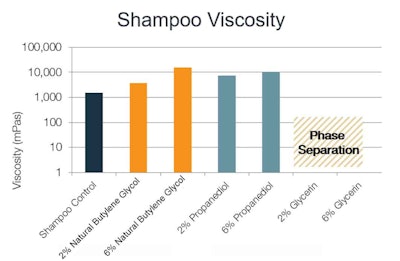 Facial cleanser: In the very low-viscosity, water-like cleanser formulation, the addition of natural butylene glycol, glycerin and propanediol had no significant impact on the overall viscosity and/or elasticity (see Figure 2).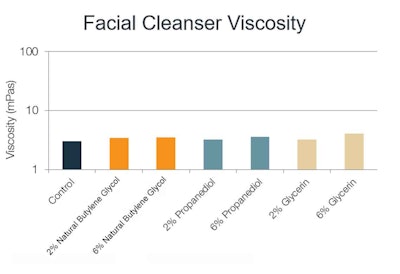 Results: O/W Emulsions
Conditioner: Viscosity of the conditioner was enhanced by the addition of each polyol; more so at the 2% level for the natural butylene glycol (see Figure 3). Although the numerical viscosity results showed minor variations, the researchers observed no significant change from a sensory perspective between the formulations containing 2% or 6% natural butylene glycol, glycerin and propanediol (data not shown). The control formulation had no detectable elasticity, and none of the solvents impacted elasticity at any concentration (data not shown).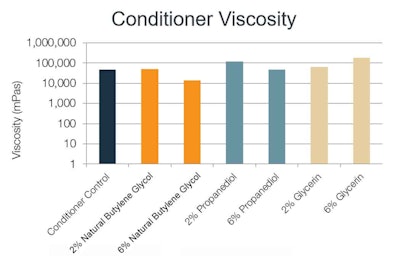 Hand cream: At a 2% concentration, natural butylene glycol maintained similar viscosity as the control, while glycerin and propanediol decreased viscosity. At 6%, the natural butylene glycol increased viscosity more significantly than the other polyols and outperformed the control (see Figure 4).
In terms of elastic behavior, each of the 2% formulations was comparable. At 6%, the natural butylene glycol exhibited a dramatic increase in elasticity response compared with the control, while propanediol and glycerin both decreased elasticity (see Figure 5).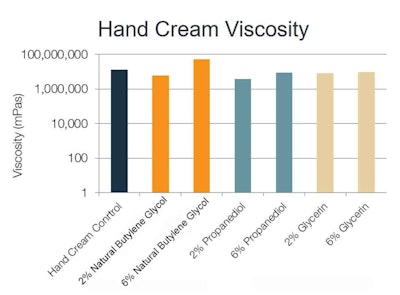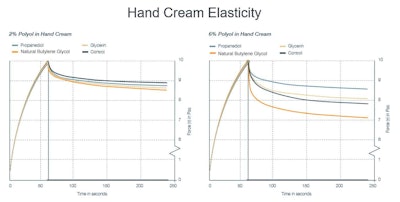 Body butter: All 2% solvent formulations displayed a reduction in viscosity. The formulations made with glycerin and natural butylene glycol showed moderate decreases, whereas the viscosity of the propanediol-based formulation was 5x smaller than the control. The viscosity of the 6% propanediol formulation remained unchanged, compared with the 2% formulation, whereas natural butylene glycol and glycerin at 6% showed a significant increase in viscosity – 8x that of the control (see Figure 6).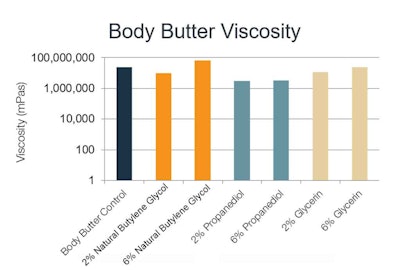 In contrast, 2% propanediol caused the most significant increase in elasticity, while natural butylene glycol and glycerin showed similar elasticity to the control (see Figure 7).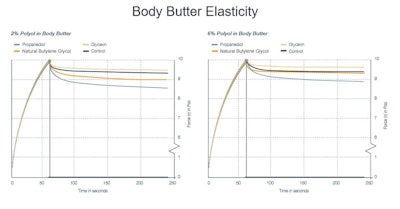 Discussion
The results of these studies demonstrate that natural butylene glycol could positively influence the elasticity of two-phase o/w emulsions and, as expected, it had little impact on the elasticity of liquid single-phase formulations. Furthermore, depending on the concentration, natural butylene glycol could effectively modify the rheology of both aqueous phase products and o/w emulsions.
Natural butylene glycol consistently increased viscosity in the shampoo formulation as it increased from 2% to 6%, similar to propanediol, whereas glycerin was incompatible with this formulation and caused a breakdown in stability. In body butter, while natural butylene glycol had little impact on elasticity, at 6%, it significantly increased viscosity. In contrast, propanediol decreased viscosity at both 2% and 6% concentrations.
Finally, natural butylene glycol positively influenced rheology in o/w emulsion hand creams. It disproportionately increased elasticity and viscosity compared with glycerin and propanediol as its concentration in the formulation rose above 2%.
Conclusions
Increasing viscosity and improving viscoelasticity can benefit sensory properties in formulas by imparting a thicker or richer feeling on the skin, enhancing moisture retention and improving after-feel. The results of this study add to the growing body of data demonstrating the multifunctional nature of natural butylene glycola and its applicability to a variety of personal care products.
Shifting toward more sustainable multifunctional ingredients and manufacturing methods can support the new wave of demand for high-quality products made from fewer ingredients with lower carbon emissions – compared with fossil fuel-based alternatives. This further supports responsible sourcing, traceability and transparency throughout the cosmetics and personal care product supply chain.
References
1. U.S. Environmental Protection Agency. (2020) Green chemistry challenge: 2020 Greener Synthetic Pathways Award. Available at https://www.epa.gov/greenchemistry/green-chemistry-challenge-2020-greener-synthetic-pathways-award