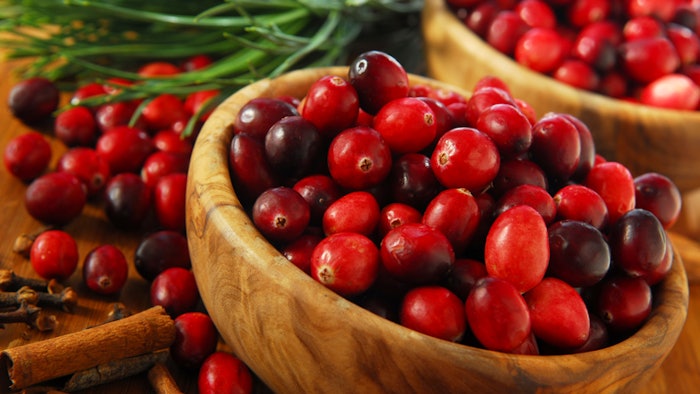 Fruit d'Or has launched CranOra cranberry seed oil (INCI: Not Provided) a COSMOS certified ingredient with benefits in skin and hair care products set to debut at booth #AM70 during the in-cosmetics Global trade show, March 28-30 in Barcelona.
Cranberry seeds generated by the company's dried fruit production are upcycled to extract the oil. According to Fruit d'Or organic cranberry seed oil is produced with non-GMO ingredients and contains no parabens, phenoxyethanol, synthetic perfumes and dyes or other petrochemical ingredients.
Related: Sederma to Announce New Ingredient at In-cos Global 2023
The ingredient is rich in omega-3, -6 and -9. It is high in vitamin E tocopherols and tocotrienols, as well as polyphenols and beta carotene, per the company.
Potential formulation uses in skin care include improved skin elasticity and texture, prevention of dehydration, illuminated skin, slowed premature skin aging and relief of irritated skin.
Hair care uses include shampoo, conditioner and hair masks for repairing split ends and dry, damaged hair and a hair-protective sunscreen.
Sylvain Dufour, vice president of business development, Fruit d'Or, commented: "Everything Fruit d'Or does is driven by our respect for our environment. We are committed to the responsible use of natural resources."