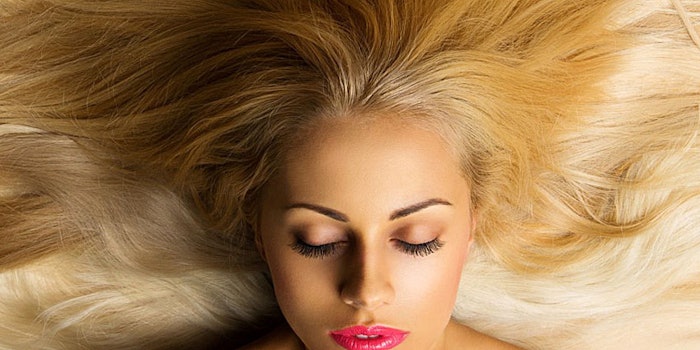 https://www.sinerga.it/en/news/focus-on-scalp-care
Sinerga offers a range of ingredients for both hair and scalp care. Two actives in particular are highlighted to counteract issues in the scalp, in turn improving its health as well as hair's.
Related: 4 Consumer Tips and 2 Formulas to Optimize Hair and Scalp Health
Sinerga offers X-Solve (INCI: Ethyl Ximenynate (and) Lecithin (and) Caprylic/Capric Triglyceride (and) Glycerin) and Verochic (INCI: Shikimic Acid) that are said to target scalp issues such as inflammation, aging and dehydration.
X-Solve
X-Solve is provided in a patented encapsulation system to better deliver its active compound for increased and faster efficacy. It is reportedly a powerful skin microcirculation modulator, able to improve blood flow in superficial vessels due to its vasoactive capabilities.
This influx of blood circulation to the scalp ensures it takes in essential nutrients and oxygen in order to maintain health. Subcutaneous blood flow to follicles subsequently helps in the anagen phase of hair growth, extending length and decreasing hair loss.
In addition, scalp inflammation can lead to itching, hair thinning and exacerbate hair loss. In relation, the ingredient also intervenes in the inflammatory process at the prostaglandin level by preventing the formation of arachidonic acid. 
Verochic
Verochic is a patented pure powder form of shikimic acid, derived from Illicium verum. It reportedly acts as a powerful yet non-irritating exfoliating agent.
According to the company, compared with glycolic acid, the active was found to exert 24% stronger exfoliating action yet is milder to skin. After 24 hr, the area treated with glycolic acid was irritated, dried and desquamated while the Verochic-treated site was perceived to be normal. Therefore, the product is recommended for sensitive skin areas such as the scalp and even on inflamed and irritated skin. 
Verochic also acts as an inhibitor of lipase activity, decreasing the presence of free fatty acids responsible for malodor. Moreover, it is a safe and effective antimicrobial agent, for which the company holds a patent on its application against several pathogenic microorganisms without damaging beneficial bacteria.
Previously: Essential Oils May Have Cosmetic and Dermatological Use for Hair Care