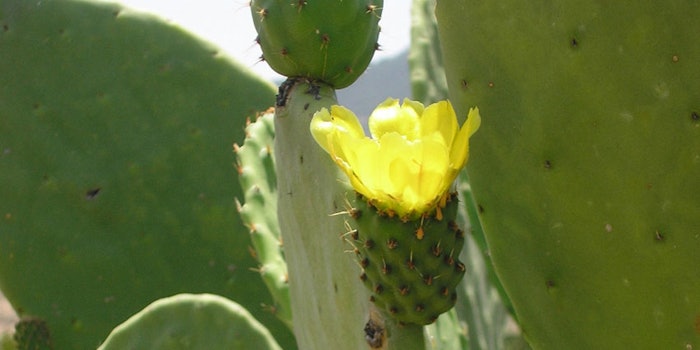 Silab
Silab has unveiled new efficacy data for Exfolactive (INCI: Hydrolyzed Opuntia Ficus-Indica Flower Extract), which addresses the natural mechanism of desquamation.
Related: Silab Reveals Anti-aging Findings for Glyco-Repair
This additional data confirms this active ingredient boosts the natural exfoliation capacity of age-weakened skin by stimulating the activity of desquamation enzymes. It also promotes cell renewal and eliminates scales for an optimal cutaneous barrier function.
Because of the active's biological exfoliating action, which is effective on the face and the body, it restores a balance between proliferation and desquamation to the epidermis.
After 14 days of application, Exfolactive tested at 2.5% in a Caucasian panel and was found to smooth skin grain by7%; complexion radiance was improved by 10%; the natural pink color of the skin was enhanced by 20%; senescence spots were reduced by 11%; and skin was rehydrated by 24%.
In an Asian panel under the same conditions, Exfolactive decreased the color of scars present on the cheeks by 4.1% and smoothed skin grain, lessening rugosity by 8.9%.
A comparative study conducted by the company showed that the benefits of this natural biological exfoliation are equivalent to those obtained with the reference molecules used for chemical scrubbing, using glycolic acid on Caucasian skin and salicylic acid on Asian skin, without undesirable effects.
In order to propose a natural solution to reactivate the endogenous pathways of desquamation, Silab used nopal, a cactus that thrives in a desert environment and can renew itself every year, to produce Exfolactive .
To ensure the traceability of its supply of nopal flowers, Silab has established a partnership in Tunisia, the leading producer of this resource. The partner, specialized in the organic culture of nopal, is committed to a responsible approach for the Ecocert Fair For Life certification.
Between May and June, farmers harvest and dry the nopal flowers. The dried flowers are then submitted to a controlled hydrolysis, allowing optimal extraction in water of the oligosaccharides.
Exfolactive is a patented product available in aqueous solution. This active ingredient has a content of natural origin ≥99% (ISO 16128) and is compliant with international cosmetic regulations (Europe, United States, Japan, China, etc.).
Previously: Silab Quadruples Capacity for Yeast, Microalgae and Bacteria