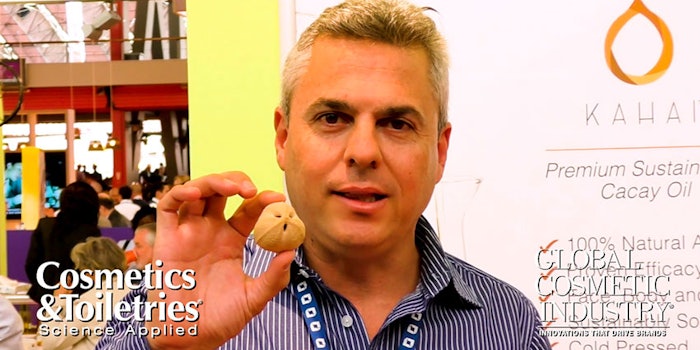 Kahai SAS is the first company in the world to industrialize products from the Cacay tree, which produces nutritious nuts from which a precious oil is extracted for natural skin and hair care. It contains high levels of omegas 3, 6 and 9, and due to its healing properties, it has been used traditionally as an emollient, in the treatment of skin irritations and burns, and for wound-healing/cicatrization processes. Recent studies have demonstrated anti-aging benefits as well.
However, this Amazonian resource provides much more. Kahai's model is to use the entire resource in such a way as to support local economic development—providing an alternative to illicit crops and making it a biodiversity icon in Colombia.
During in-cosmetics Global, Camilo Jaramillo Guerrero, business development manager for the company, explained, "We integrate the whole value chain from wild collection, where we conduct awareness campaigns to explain the potential of the species. Through wild harvesting we're generating incomes for more than 200 peasant and indigenous families within conflict zones."
Furthermore, through grafting, the company reduced the plant's unproductive time from 8 to 3 years, increasing productivity up to 80%. Machinery was designed for processing the nuts, oil and meal, and the company is focused on achieving zero waste by use the fruit and plant parts comprehensively. The company also applies Fair Trade principles in order to increase communities' welfare, and it promotes eco-friendly practices in the plantations, to minimize the impact on the ecosystem. 
For all these efforts, Kahai has earned several awards and acknowledgements, both locally and internationally. This includes the 2017 silver in-cosmetics Green Ingredient award. Learn more about the ingredient in the below interview. Watch now!