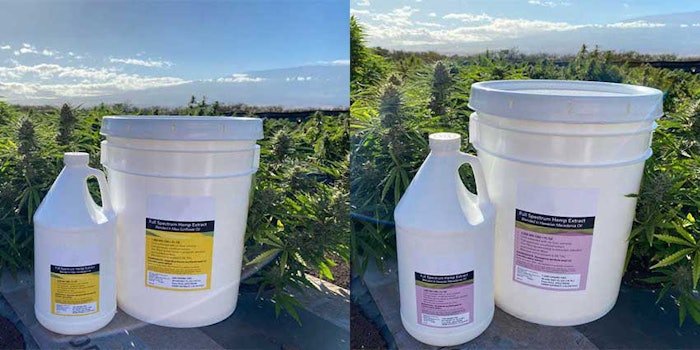 kuleanacbd.com
Kuleana has introduced its Kuleana CBD collection, including full-spectrum hemp extract. Blended with antioxidant-rich macadamia or sunflower oils, the extract is made from hemp plants sustainably farmed and produced using a CO2 extractor to reduce the need for chemical solvents.
Related: Oh, Oh Organic Offers CBD by Kuleana
The products are available as cosmetic ingredients in bulk sizes for beauty brands and cosmetic manufacturers. Two blends are offered: Full Spectrum Hemp Extract blended in Hawaiian Macadamia Oil; and Full Spectrum Hemp Extract blended in Maui Sunflower Oil. Both are available in concentrations of 2,000 mg CBD per fl oz and 1,000 mg CBD per fl oz.
The company's Maui-farmed full-spectrum hemp extract with CBD was created from hand-trimmed flowers cultivated for their profile of cannabinoids and terpenes. Ensured to comply with the legal THC limit < 0.3%, the extract also contains antioxidants.
The Hawaiian macadamia oil is expeller-pressed with no additives or preservatives. The benefits of macadamia nut oil for skin include: nourishing dry, rough and maturing skin; soothing irritated skin; serving as a lightweight moisturizer for hair and skin; providing antioxidants and the omega fatty acids 9 (oleic) and 7 (palmitoleic); helping to reduce the appearance of wrinkles and fine lines; absorbing rapidly; and being nongreasy so as not to clog pores.
Finally, the company's Maui sunflower oil is cold-pressed and contains no preservatives or additives to retain its natural color, aroma or beneficial properties. Sunflower oil offers skin benefits such as: acting as a soothing and calming moisturizer, especially for sensitive skin; nourishing with its rich vitamin E content; feeling light and non-greasy; helping to retain moisture; and acting as an emollient.
Featured: Soothing Moves: Cannabis Sativa Cell Culture Alleviates Inflammation